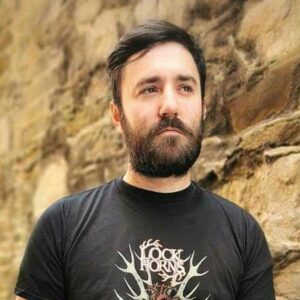 Latest posts by Callum Marshall
(see all)
There is nothing more satisfying in this world than playing through an enjoyable game, playing through the entire story, uncovering every little secret, played every aspect of the game that the developers planned for you to see. Then as the curtain closes on that chapter of your gaming career, a platinum trophy pops. It's a feeling that is unrivaled within the medium of gaming and is just about the most rewarding and cathartic experience you can have with a controller in your hand. However, we would argue that some games are a little bit more satisfying than most when it comes to their 100% completion journey.
You see, some games offer easy completion experiences that do a lot to bump up your trophy tally, but you almost feel dirty when that plat pops in the corner of the screen. Then on the flip side, you have platinum journeys that take hundreds of hours, require complete mastery of the game's mechanics, and offer some of the hardest, almost sadistic challenges within the world of gaming. Naturally, you'll be happy when you finish these games, but the pride is somewhat overshadowed by the relief that you feel because you never have to take on that challenge again.
So with that in mind, we have put together a list of platinum trophy journeys that are 'just right.' They aren't too tricky, not too easy, not too short, and not too long. They are enjoyable and satisfying experiences that will leave you with a lump in your throat when you finally wish them goodbye when that shiny platinum sits pride and place in your online trophy cabinet. So join us as we list the most satisfying trophy hunts of all.
Selection Criteria
If you are still a little bit unclear about what to expect from this list, then maybe we should clear things up a little. Here are the criteria that we decided upon when selecting these excellent platinum journeys for this list:
The game mustn't be too taxing on the player. Meaning difficulty rating should be somewhat challenging but brutally so.

The game equally mustn't be a walk in the park. There should be some level of challenge to overcome

The game must be at least ten hours long; otherwise, we would consider it a quick and easy platinum

The game, on the other hand, must not be a huge undertaking which will require hundreds of hours to complete

The majority of the trophies should be straightforward and attainable without a need for a guide

The platinum should be attainable within one playthrough with cleanup (Two playthroughs max)
Now that we have that cleared up let's get into the meat of this article. Here are our picks for the most satisfying games to platinum:
Horizon Zero Dawn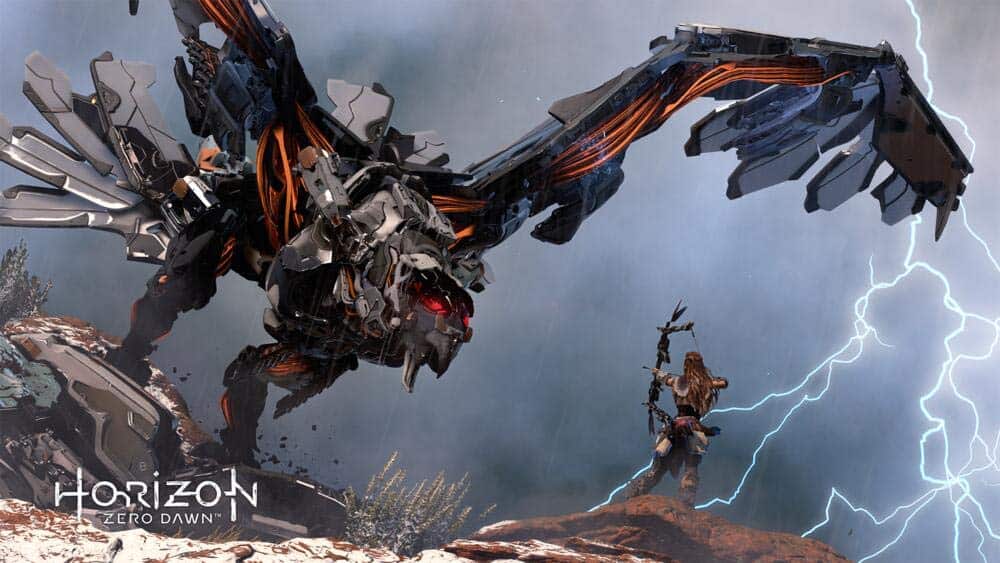 Genre: Action RPG
Difficulty: 4/10
Number of trophies: 79
Average Completion: 30%
Time to Complete: 30-40 hours
Playthroughs: 1 
We begin proceedings with Horizon Zero Dawn, a game that combines prehistoric times and tribal life with the technology of a futuristic era. In this title, you play Aloy, an outcast from her tribe who holds the key to the survival of the human race. In this game, you will use primal combat to take down mechanical beasts unlike anything ever seen within the medium of gaming. It might sound like this game would be an intense, difficult and stressful experience. However, thanks to the open-world 'Ubisoft-esque' format, the game is very straightforward.
To platinum this game, you just have to complete all the main quests, the important side quests, and check off all the points of interest on the map. The game offers a gripping story, some of the most intuitive mechanics, and combat of the modern gaming era, and if you have a week to set aside for this one, you'll be able to pick up platinum for this title. Plus, with Horizon: Forbidden West on the way, there is no better time to jump into this one.
Infamous: Second Son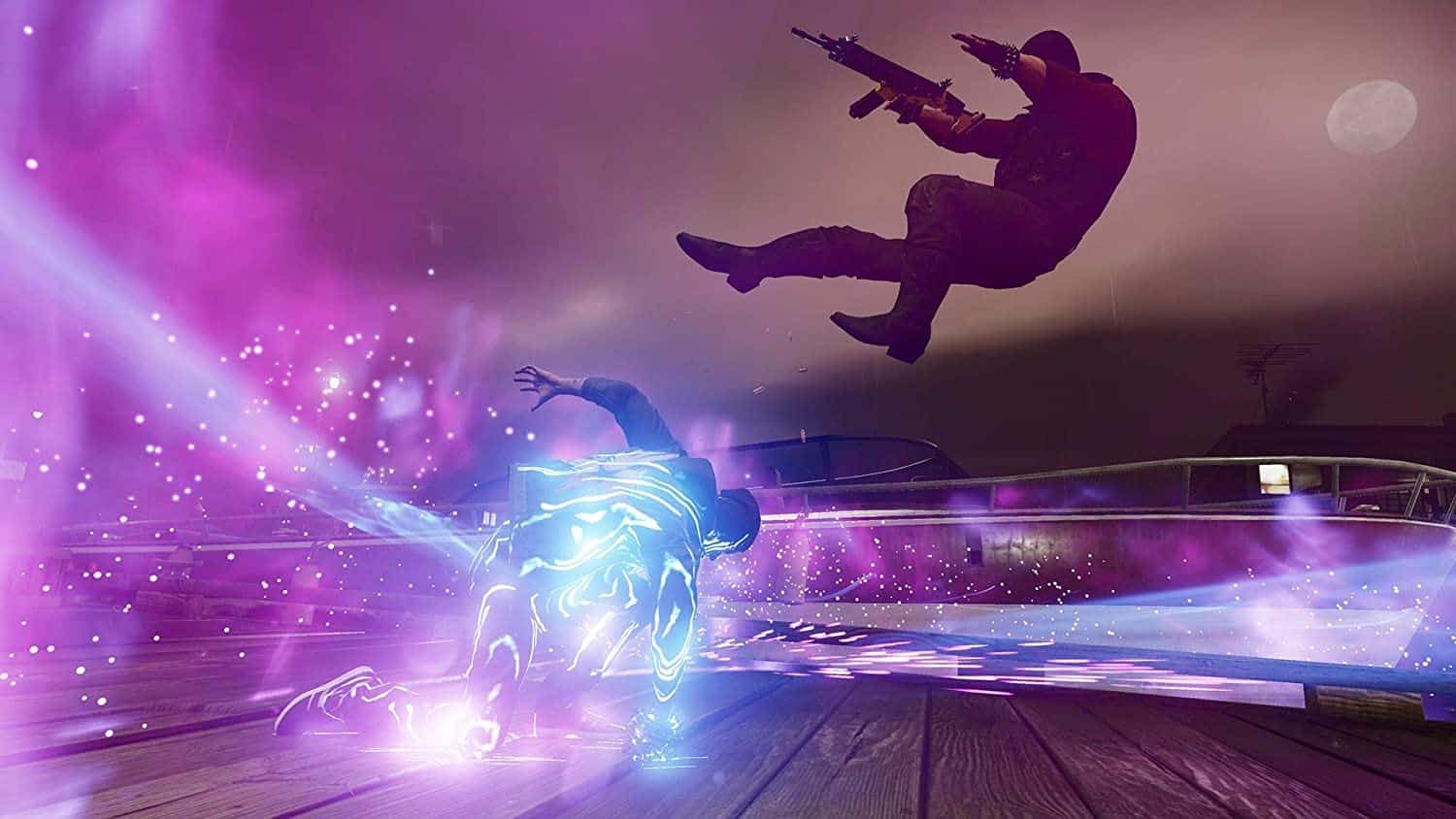 Genre: Action RPG
Difficulty: 2/10
Number of trophies: 48
Average Completion: 28%
Time to Complete: 15-20 hours
Playthroughs: 2
Next up, we have another action RPG, Playstation exclusive, and if we do say ourselves, a damn good game. Infamous: Second Son is the third game in the Infamous series and acts as a fresh coat of paint for the series, moving the spotlight from Cole Macgrath to the young gun, Delsin Roe. In this game, you play as a conduit who can control the power of electricity, steam, and various other aspects of the Seattle city environment. You'll have to use these powers to get around, fight your oppressors, and ultimately, take down the DUP.
The story within this game may not be the most compelling of all the Playstation exclusives out there, but we assure you, the gameplay mechanics more than makeup for it. Plus, thanks to these satisfying mechanics and a very straightforward trophy list, you can have this one wrapped up in a weekend. You will need to play through this one twice as you'll need to do a good and evil playthrough, but overall, 20 hours is one of the shorter runs on this list, and we reckon you'll have so much fun that time will fly by.
Fallout 4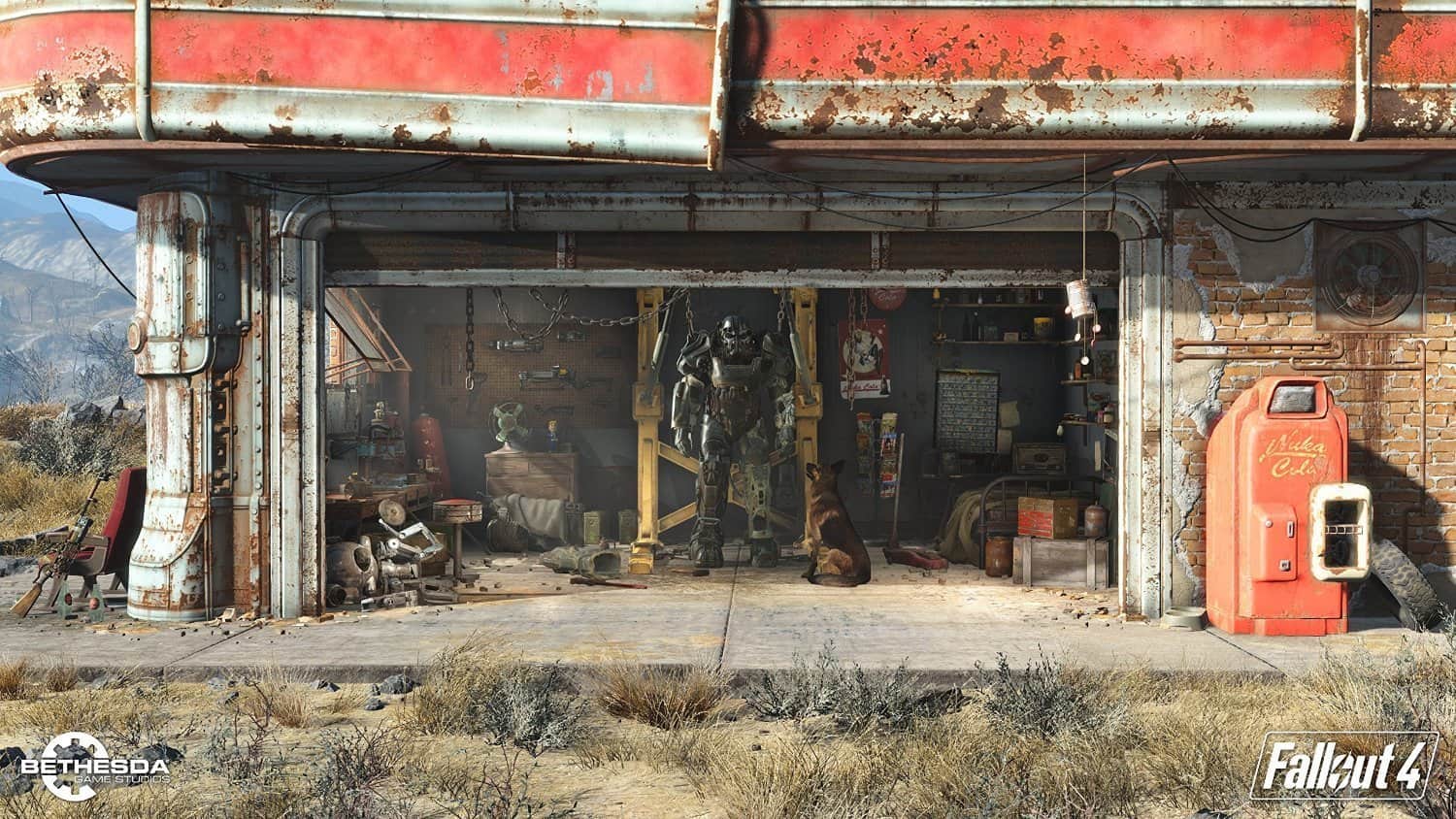 Genre: RPG
Difficulty: 3/10
Number of trophies: 85
Average Completion: 12%
Time to Complete: 50-60 hours
Playthroughs: 1 
Are you dying for some new post-apocalyptic fun? Well, few game franchises can offer the same level of open-world bliss as the Fallout series. In truth, we could have included any of the modern Fallout games on this list, but we went for Fallout 4, mostly because this game is more easily accessible on both the PS4 and PS5. Within this iteration of the Fallout series, you are tasked with exploring post-apocalyptic Boston and discovering who has kidnapped your son, Shaun. However, if you are anything like us, you'll get so wrapped up exploring the wastes and completing side quests that you'll soon forget that you ever lost your infant son. Is that evil? Probably but you'll be having too much fun to care.
This game is, admittedly, one of the longer games to platinum on this list. Simply because there is so much to see and do within this game. However, thanks to the variety of gameplay, including fun combat, cool settlement building mechanics, gripping quests, and more, it never feels boring or stale. The only trophy that can be a pain is the achievement that requires you to build a settlement that achieves 100% happiness. However, if you consult a video guide for this one, you shouldn't have any other issues.
Nier Automata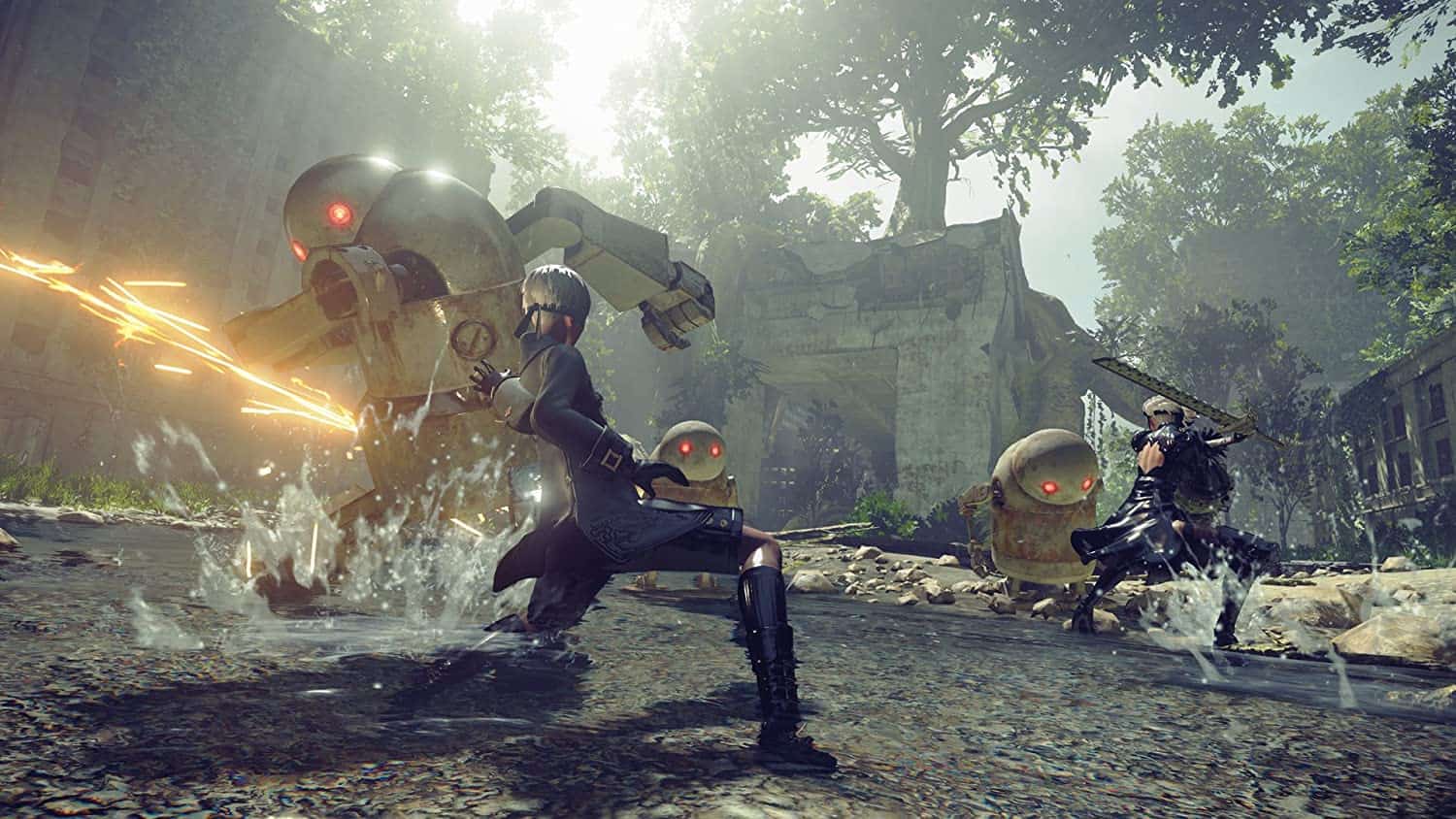 Genre: Hack and Slash/JRPG
Difficulty: 4/10
Number of trophies: 48
Average Completion: 30.5%
Time to Complete: 20-50 hours
Playthroughs: 3 w/ chapter select
Moving onto a JRPG title that is fast-paced, intense, and incidentally, a very satisfying and manageable platinum journey. In this title, you play as 2B, an android warrior who is tasked with protecting the world from the evil machines that plague the land. Picture what everyone thought would happen during Y2K, then crank up the option to eleven. It's a wonderful game with vast lands to explore and hulking metal behemoths to take down, but here's the thing. You don't have to do most of these achievements legitimately.
You see, within the Resistance Camp in this game, you can access a secret vendor who sells trophies for in-game currency. It's a unique mechanic within gaming that we haven't seen anywhere else, but we would love to see this implemented elsewhere. So you can either do this legitimately or use the merchant to make life easier for you, but either way, we assure you that you will have a tonne of fun.
Uncharted 4: A Thief's End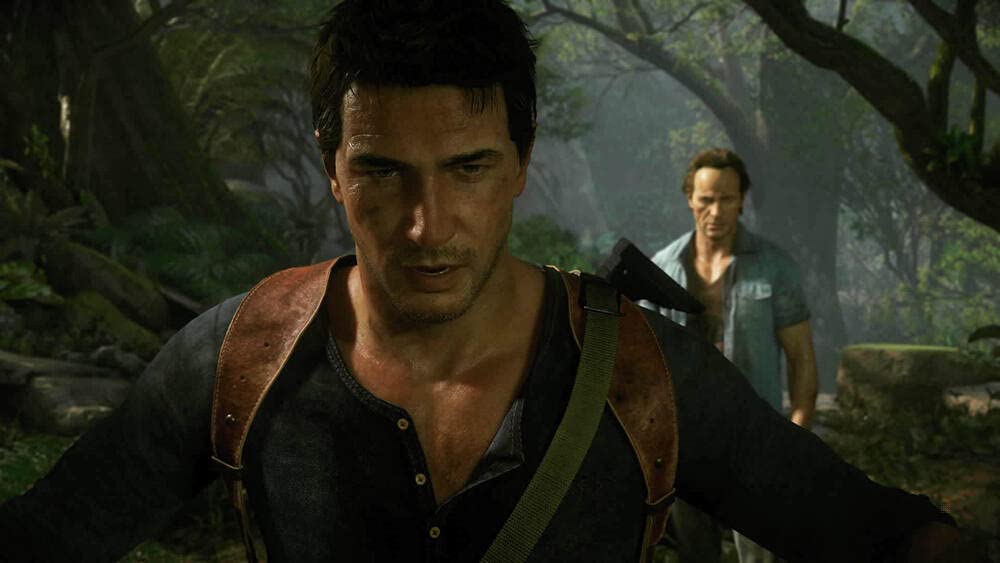 Genre: Action RPG
Difficulty: 3/10
Number of trophies: 68
Average Completion: 10.5%
Time to Complete: 25-30 hours
Playthroughs: 2
Next up, we have the most recent outing from the daredevil explorer, Nathan Drake. We would argue that aside from the first game in the series, which hasn't aged well, that you could play any other game in the series and grab platinum. However, we chose this one not only because of the achievement list that you'll largely complete through natural play but also because of the incredible modern gameplay that this game offers.
What we would say about this one is that if you found the achievement list from The Last of Us a little taxing due to the difficulty requirements, we would suggest you try this one. Uncharted 4 is a visual masterclass, offers supreme gameplay, and arguably represents the peak of the eighth gaming generation. So you would be a fool to miss this one.
Assassin's Creed II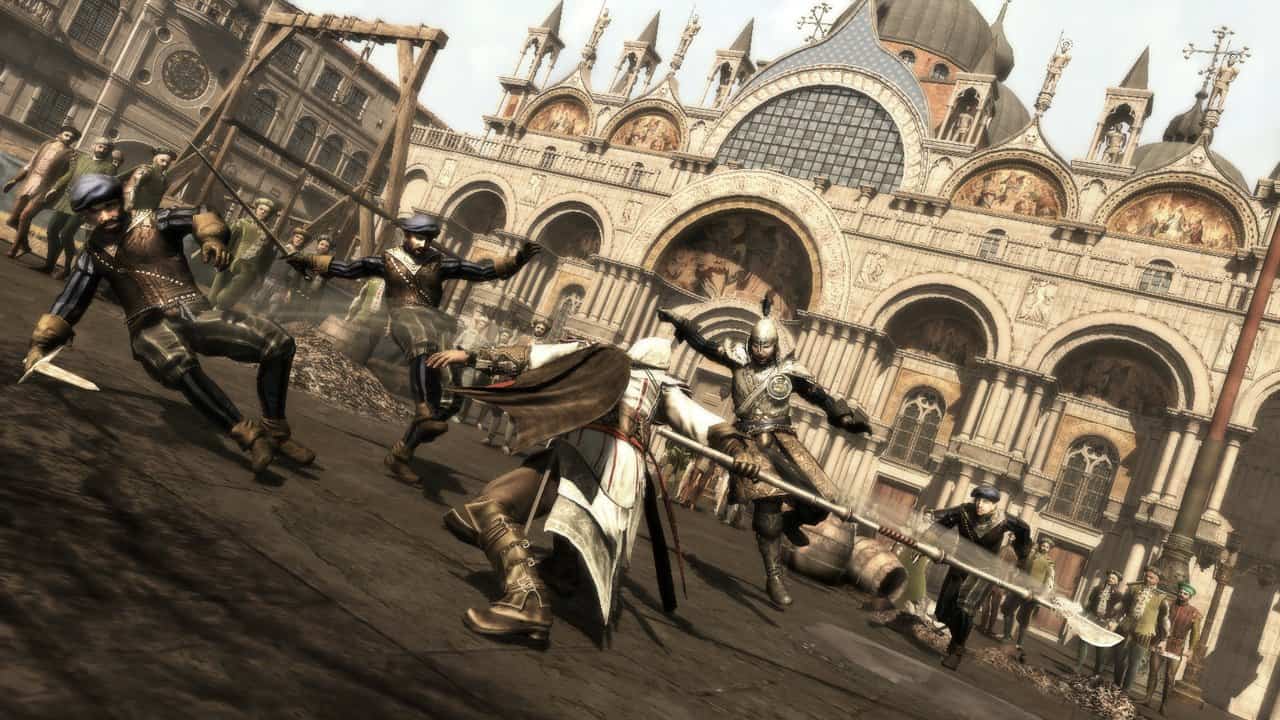 Genre: Action RPG
Difficulty: 2/10
Number of trophies: 51
Average Completion: 24%
Time to Complete: 15-20 hours
Playthroughs: 1 
Have you ever wanted to jump back in time to a particular part of history and wander the city streets, take in the culture and meet the people of that era? Oh, and do you have a craving for some mass murder while you do it? Well, the Assassin's Creed series is a brilliant way to settle all of those cravings, and of all these games, Assassin's Creed II is by far the easiest platinum and arguably the best game in the series ever. In this title, you take control of Ezio and travel from Italian one province to another, assassinating the biggest political and religious figures of the era.
The great thing about this one from a trophy hunter's perspective is that through natural play and some additional collecting, you can have this one done and dusted in just 20 hours. So if you have a weekend to yourself and want to play a Ubisoft game before this developer's titles become predictable and formulaic, this is the one for you.
Kingdom Hearts: HD 2.5 Remix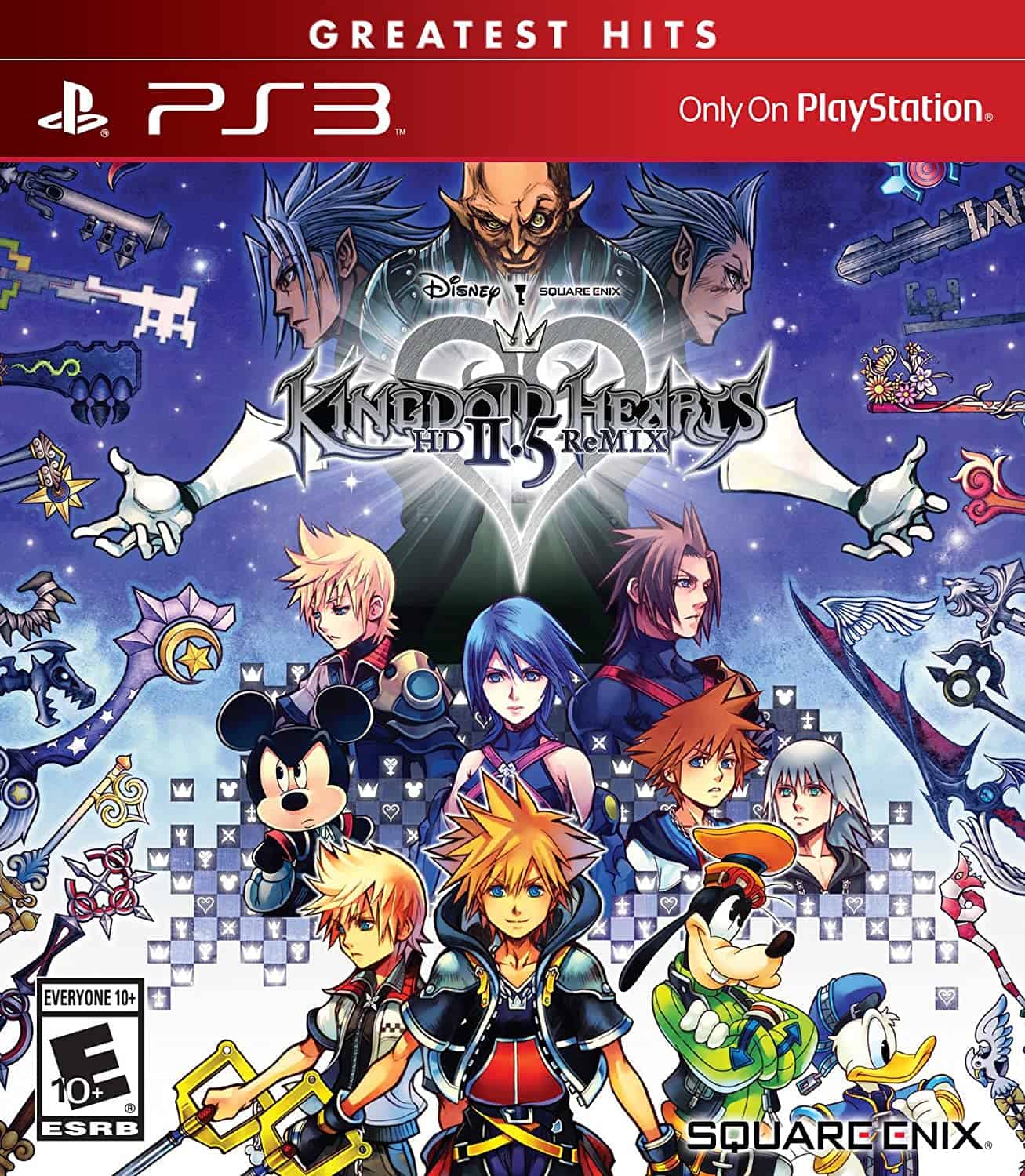 Genre: JRPG
Difficulty: 5/10
Number of trophies: 51
Average Completion: 9.5%
Time to Complete: 70-80 hours 
Playthroughs: 1 
Now for a game that is one of my personal favorites and, for my money, one of the best platinum to add to your trophy cabinet. This title is a sequel to the breakout Disney x Final fantasy epic and sees you play as Sora, accompanied by Donald and Goofy, on your extravagant adventure through some of the most iconic Disney worlds in existence. This time you'll have to stop Organisation XIII from using Kingdom Hearts for their evil agenda in only the way that a Keyblade wielder can.
In comparison to the other games on this list, this is right on the edge of almost too difficult. Some of the bosses during the data battles are very challenging and maxing out your level, and other aspects of this game can take a while to complete. Plus, the minigames are mind-numbing if you aren't in the mood for them. However, for the most part, this is a magical experience, and if you finish this one, you'll have some bragging rights within the trophy hunting community. So grab your keyboard and get to work.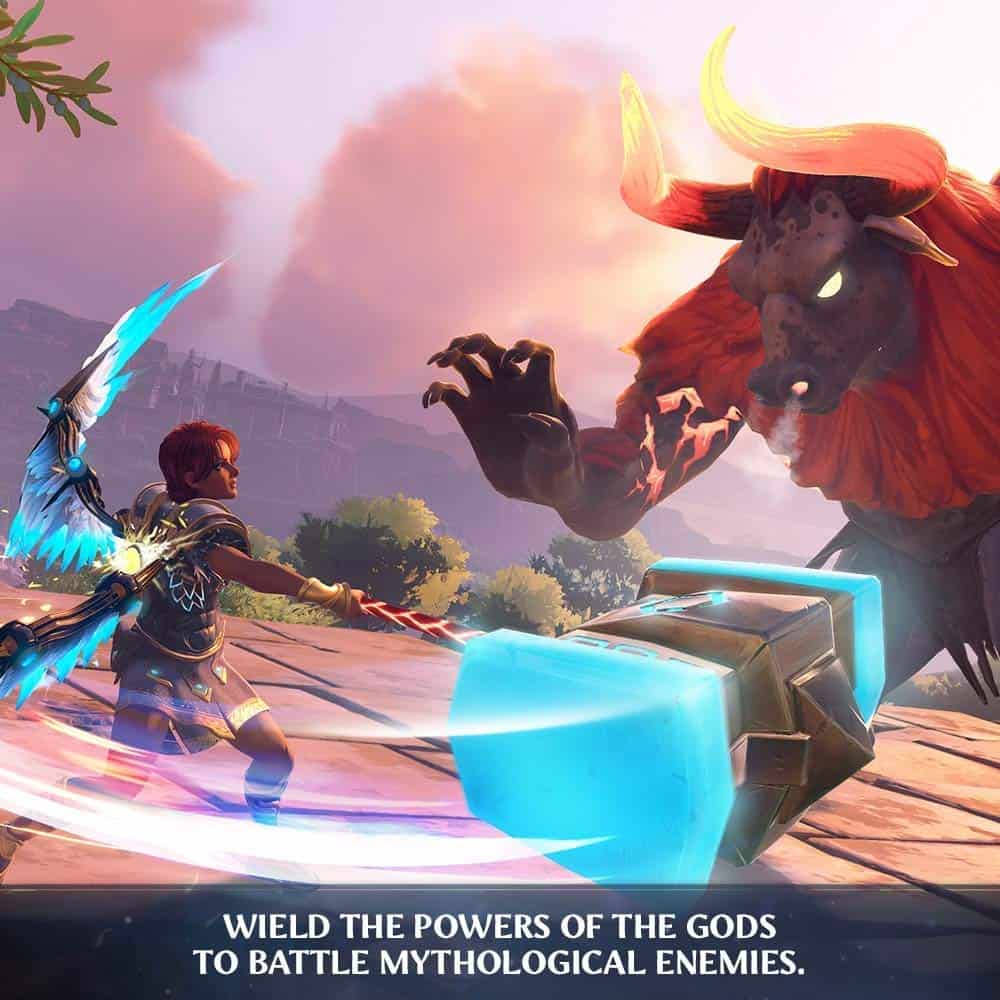 Genre: Action Adventure
Difficulty: 3/10
Number of trophies: 69
Average Completion: 32.5%
Time to Complete: 30-40 hours
Playthroughs: 1
For the longest time, Nintendo had a monopoly on games that utilized the ground-breaking mechanics seen in Legend of Zelda: Breath of the Wild. However, after the dust had settled on this game of the year masterclass, other games of this nature began to come to other platforms. We were gifted two games like this in quick succession. One was the incredible free-to-play JRPG title, Genshin Impact, and then the other was Immortals: Fenyx Rising. This game offers a title very similar to the smash-hit game starring Link, but in this title, you get much more cheesy humor and a story centered around Greek mythology.
Aside from a few slightly challenging puzzles, this game is a breeze to complete 100%. Plus, thanks to the gameplay variety, the fun writing, and the lack of difficulty-related trophies, the game never feels stale or frustrating. The only downside is that this one will take you quite a while to work through, but if you have a week to set aside for this one, we promise you, this game will surprise you and look great in your trophy collection.
Undertale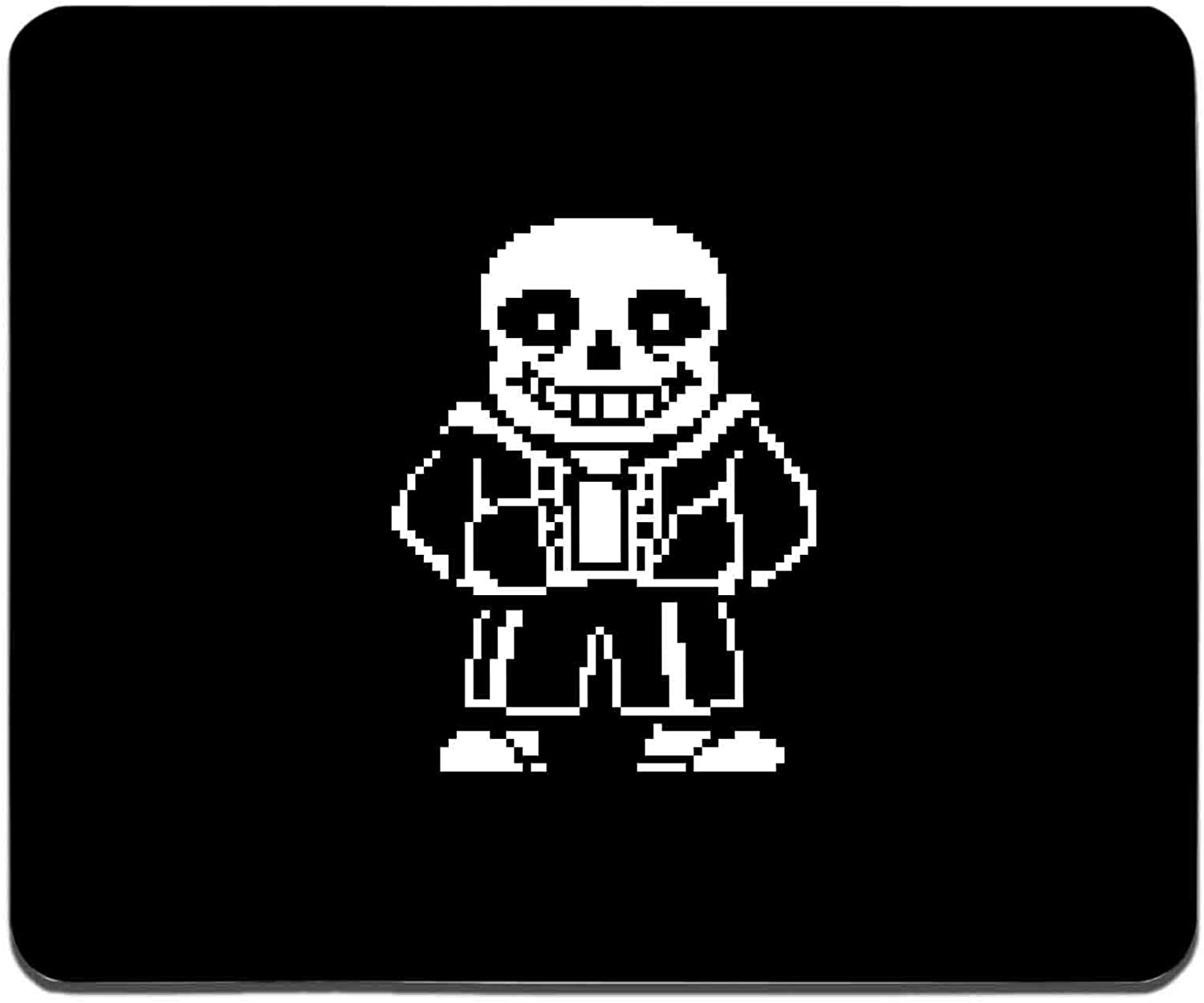 Genre: Indie RPG
Difficulty: 2/10
Number of trophies: 30
Average Completion: 48%
Time to Complete: 5-6 hours
Playthroughs: 1
Now, we think this one is a little bit of a stretch, and arguably, we should have slotted this game into our beginner platinum guide. However, even though this one is short platinum and one that almost half of the players grab when they play this game. However, we would argue that this game's platinum is satisfying for one reason and one reason alone. Just how quirky and against normal video game tropes that this game is.
This game will see you go against all of your gaming instincts, play in a completely new way, and, best of all, enjoy one of the most incredible indie games of all time. Plus, if you simply play through the story and collect some items (which are harder to miss than simply grab along the way), then you'll be the proud owner of the Undertale platinum.
Marvel's: Spiderman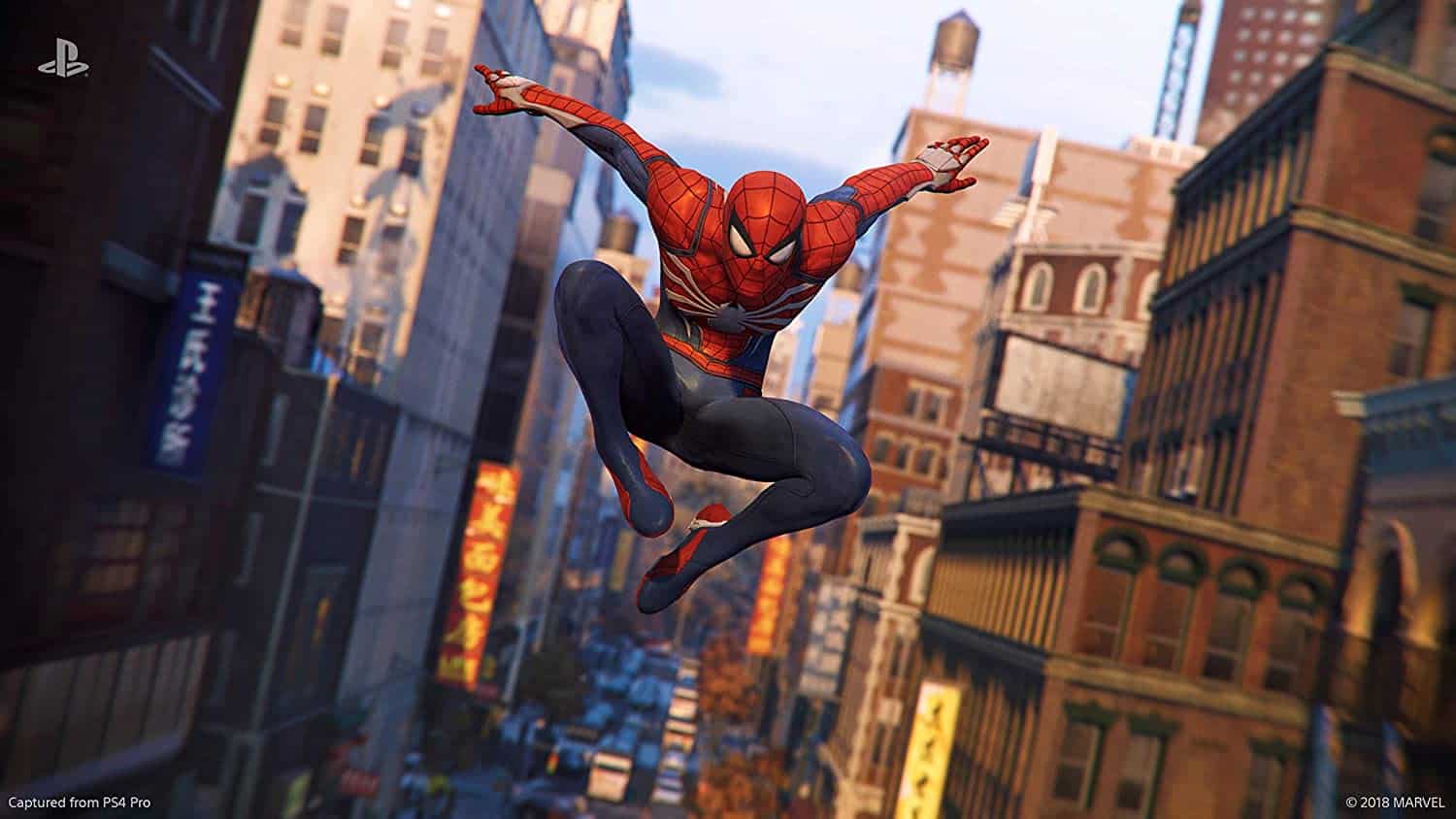 Genre: Action Adventure
Difficulty: 2/10
Number of trophies: 74
Average Completion: 45%
Time to Complete: 20-25 hours
Playthroughs: 1 
Next up is a title that lets you become your friendly neighborhood Spiderman in what is, hands down, the most epic game starring the web-slinger ever. The hype around the time of release was sky high for this title, and unlike a lot of games within the modern era, this game delivered all that it promised and more. The web-swinging mechanics were meticulously crafted to offer a satisfying traversal of the New York skyline. The combat is fun and fast-paced, the storyline is gripping and unique from the movies and comics in existence. Plus, the game doesn't take its responsibilities slightly and offers references, callbacks, and fine details that more than appease even the most dedicated Spidey nerd.
Then from a trophy hunter's perspective, this game is an incredibly satisfying one. You won't need a guide when working through the achievements, most of the trophies are story-related, and after you are done with the main game, just a couple of hours of cleanup will see you pop this platinum. In my experience, it was the perfect length, the perfect difficulty, and as I swung through the city for the final time, it felt like the perfect time to end this wonderful journey. So if you want to take on this superhero adventure, too, be sure to add this to your library.
Also, a quick tip. If you buy the game listed down below and install the PS5 remaster of this game, then transfer your save file to the new console, you get a platinum trophy for the PS5 edition automatically. You can't beat two trophies for the price of one.
Marvel's Spiderman: Miles Morales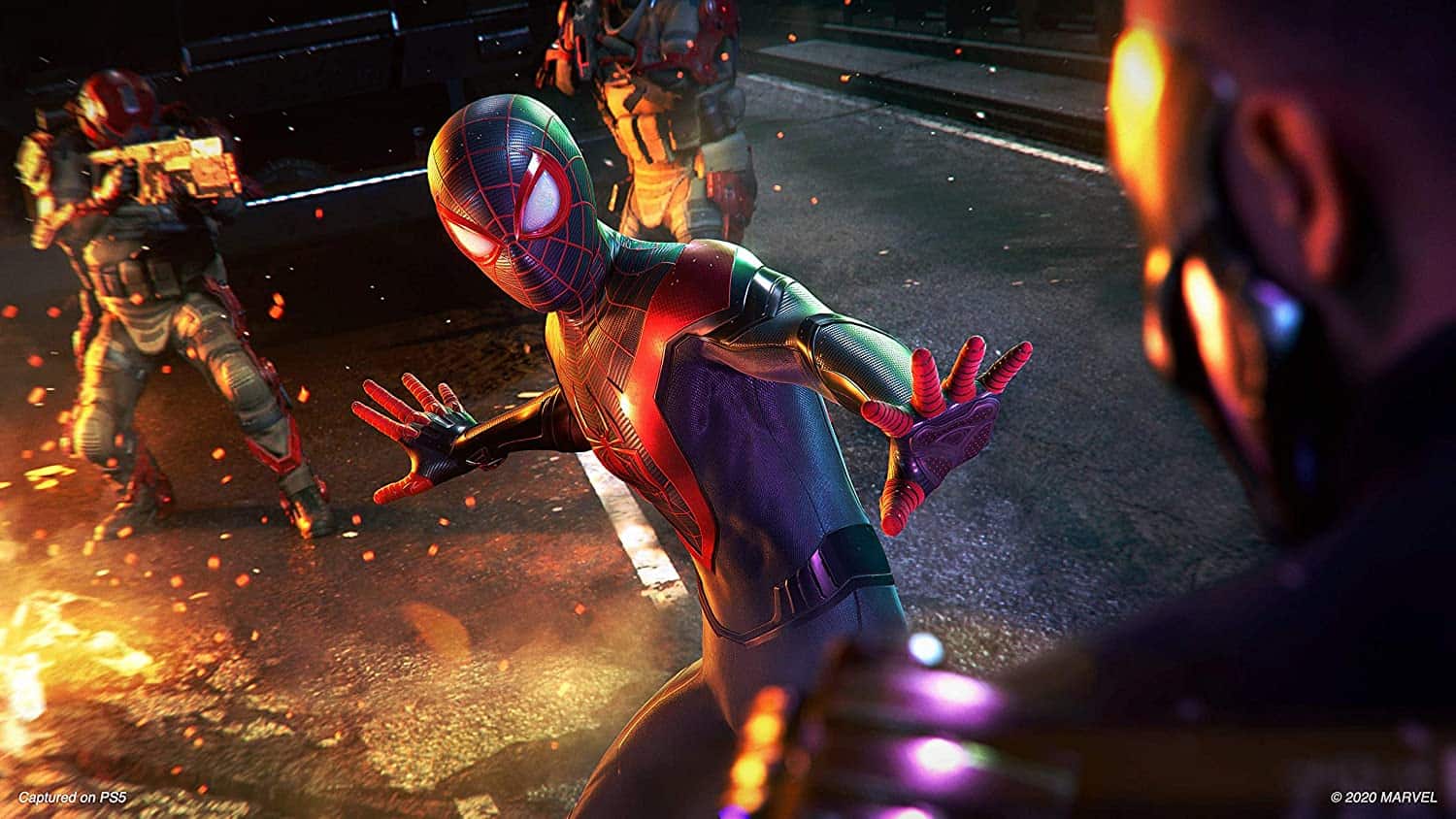 Genre: Action Adventure
Difficulty: 2/10
Number of trophies: 50
Average Completion: 45%
Time to Complete: 15-20 hours
Playthroughs: 2 
If you finished the above title and you just aren't ready to close the book on being a New York-based superhero, then Miles Morales is the one for you. After the success of Into the Spiderverse, plus the little seeds that were sown in the previous title, it was only a matter of time before we were going to see Peter Parker hand over the reigns to Miles. This spin-off of the main game may be a little shorter and not offer too much in terms of new game mechanics. However, there are some cool changes, another great story that excellently introduces Miles Morales to the series, and, much like the above title, you'll get the platinum for simply finishing the game, all be it twice over this time.
You'll have to do all the challenges, find all the collectibles and complete the game on New Game Plus mode to receive this platinum but because the game over really has an eight-hour run, you won't be too upset having to play this game again. We would wager that you might be more than willing to start over again with a full arsenal of Spidey powers at your disposal from the first moment. Plus, this one has a PS4 to PS5 auto pop, too, so double bubble.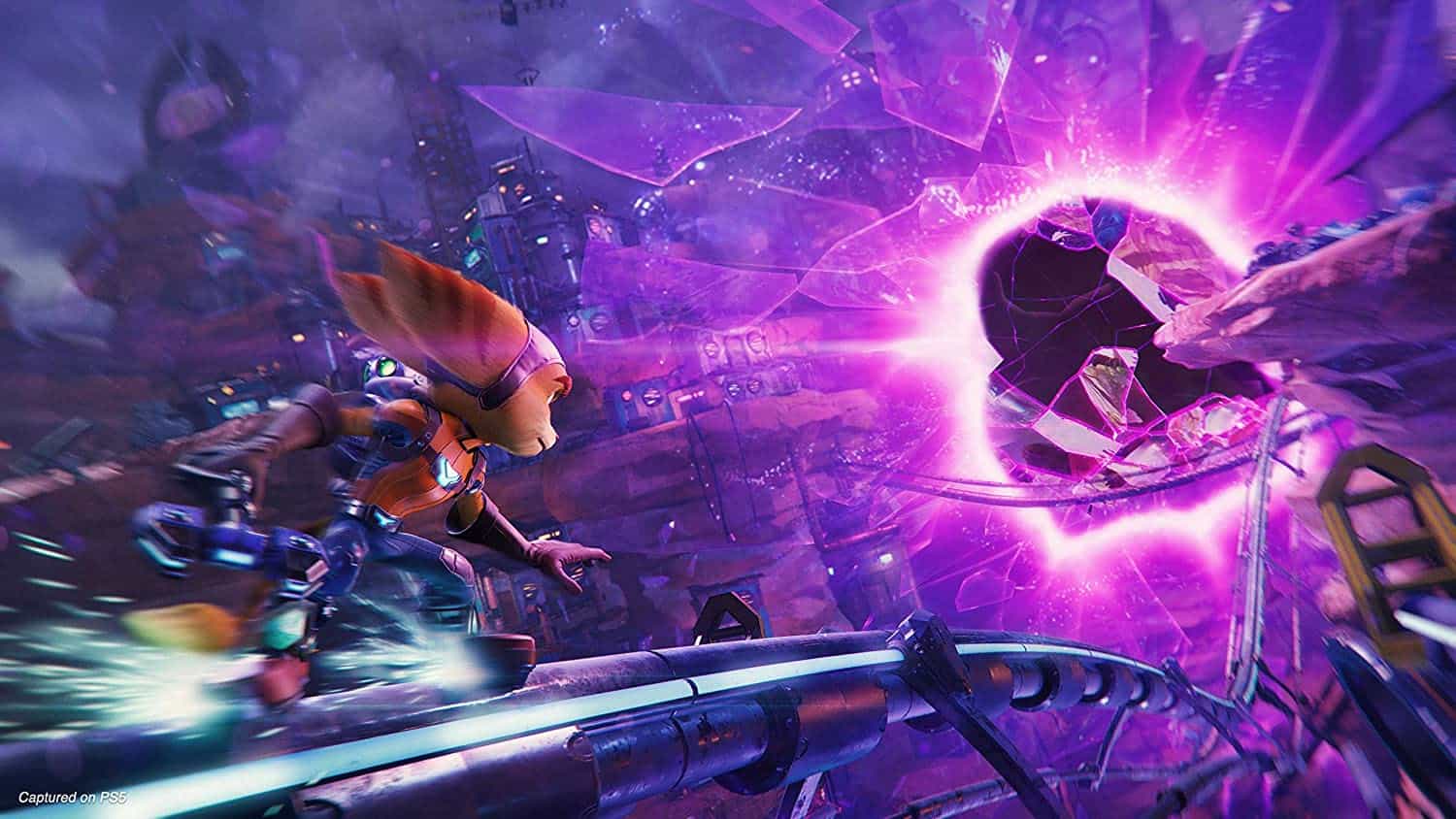 Genre: Action Platformer
Difficulty: 2/10
Number of trophies: 47
Average Completion: 68%
Time to Complete: 10-20 hours
Playthroughs: 1 
We toyed around with putting the 2016 soft reboot into this list instead. However, when we weighed up the two titles in question, we decided that this one was the more accessible and more satisfying adventure of the two. This game is widely regarded as the game that truly ushered in the ninth generation of gaming after a pretty sluggish start. The game has incredible, Pixar-Esque animation and writing; the combat and platforming mechanics are as satisfying as we have come to expect from the series and the trophy list is as chill and relaxing as possible, appealing to beginner platinum hunters that are ready for a step up to the realms of intermediate hunts.
To complete this game, you just need to play through the story, collect and the collectibles and beat all of the bosses. Which you may need to jump into New Game Plus to do, but it would take you any longer than 20 hours max. Then you can cut that in half if you skip all of the cut scenes within this game. It's something that we wouldn't recommend if you truly want to enjoy this game, but if your hunt is more important than the gaming experience, that option might appeal to you. So to witness the game that has re-ignited the demand for platformers, try this one on for size.
Spyro Reignited Trilogy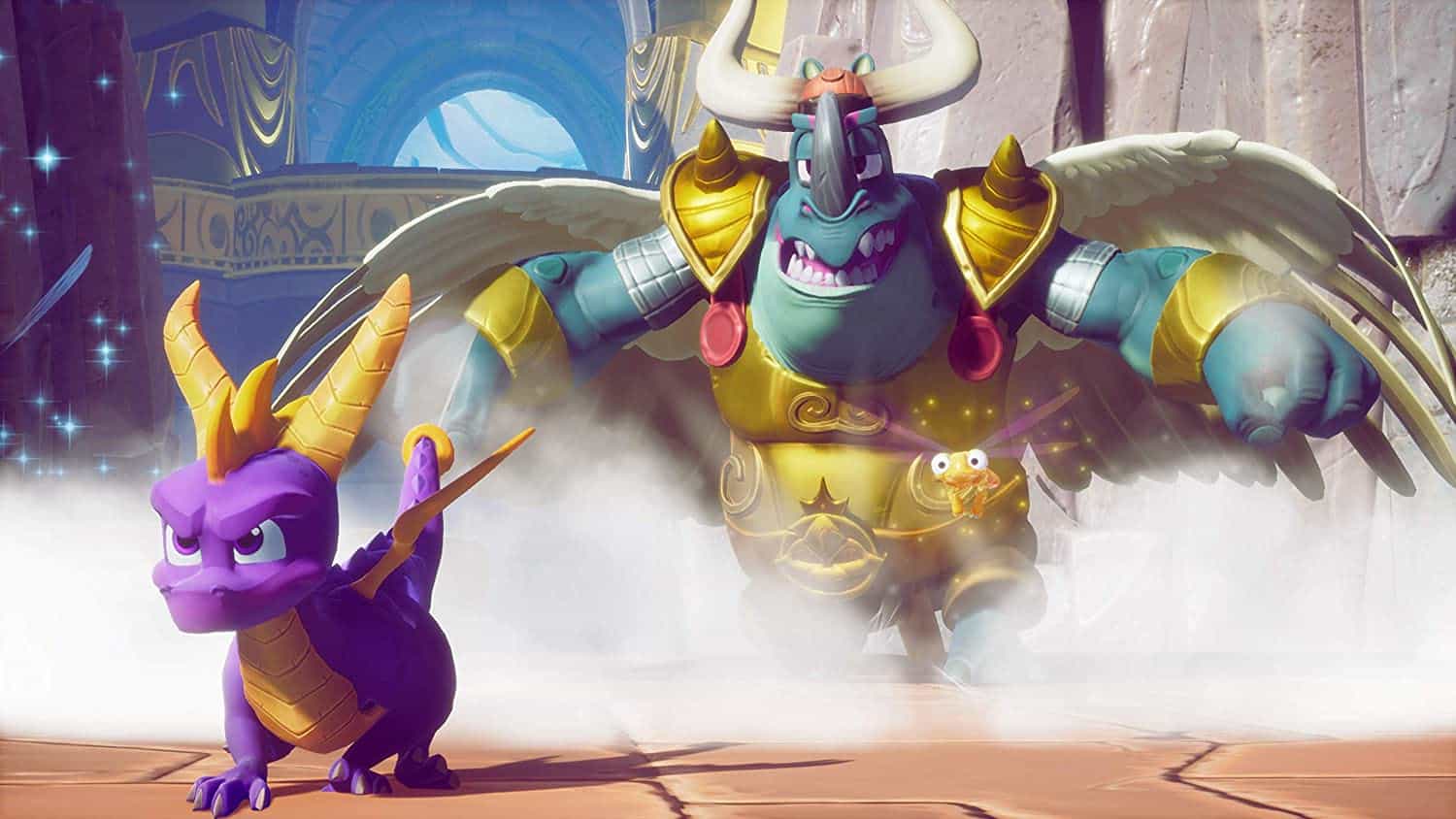 Genre: Platformer
Difficulty: 2/10
Number of trophies: 37 + 30 + 41
Average Completion: Around 40% across all three titles
Time to Complete: 25-30 Hours (All games)
Playthroughs: 3
Hey, we hear you like platinum trophies. Well, how would you fancy nabbing three of those bad boys for the price of one game? The Spyro Reignited trilogy invites you to take control of everyone's favorite purple dragon as you relive the PS1 era adventures with a new lick of paint. Toys For Bob have done an excellent job remaking these timeless platforming classics from the ground up, and alongside offering the same slick platforming mechanics and whimsical charm, each of the three games has an easy platinum list that offers just enough challenge to feel like a real accomplishment.
There are some tricky parts to each game, like the Treetops level and its fast-paced platforming, some miscellaneous tasks to complete, and also a tonne of collectibles to complete over the three adventures. However, once you complete the first game in the series, it only gets easier from there. So please, take the time to play this one and feel the wave of nostalgia hit you like a tidal wave.
Wolfenstein: The New Order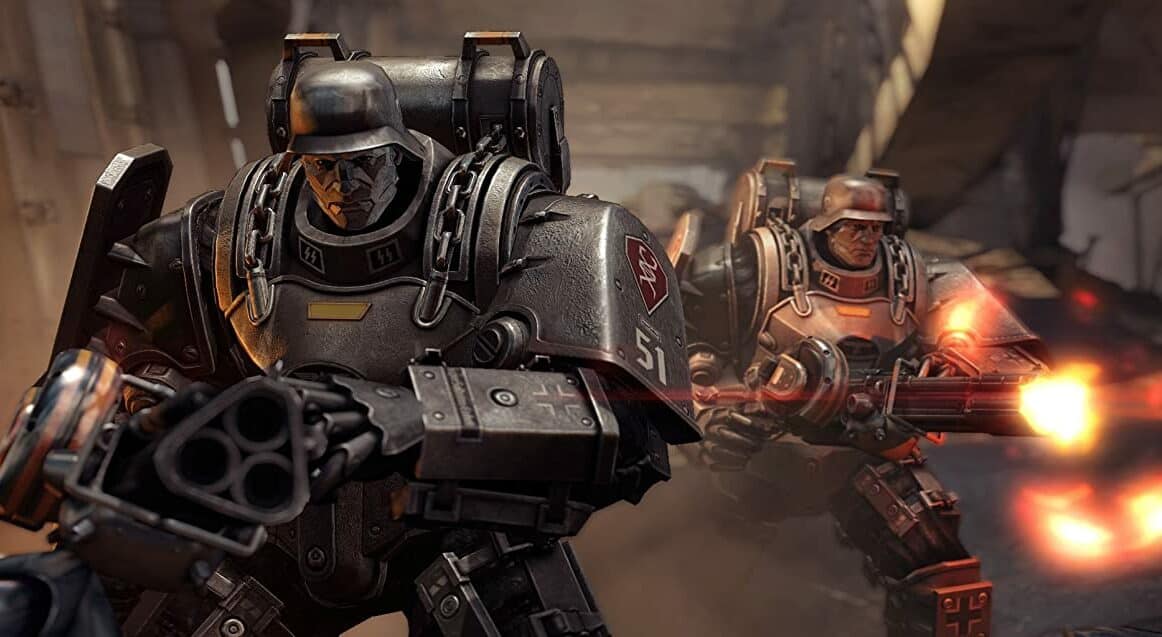 Genre: First Person Shooter
Difficulty: 5/10
Number of trophies: 51
Average Completion: 19%
Time to Complete: 20 hours
Playthroughs: 1 plus chapter select
What could be more fun and vindicating than pumping Nazis full of lead? Well, maybe fun is the wrong word if we look at it from a bloody and brutal historical context, but in the case of Wolfenstein: The New Order, that's exactly what word we would go for. In this game, you play as BJ Blaskowics, a US soldier who begins the game fighting for the US during WW2. However, after a harrowing ordeal and a blow to the head, BJ finds himself in an asylum, years after the war has ended, and in this reality, the Nazis won. Thankfully, BJ regains use of his faculties and immediately goes on a one-man rampage to turn the tide and overturn the Nazi regime.
This game is one of the more demanding games on this list in terms of difficulty. However, even on Uber difficulty, we found this game to be rather manageable. So much so that we would even argue that although it's easier to do two playthroughs and play on easier modes to grab collectibles, a veteran FPS player will be able to bash through this one in one succinct playthrough. This is a truly visceral, violent, and brilliant FPS title and one that you should take on if you want a challenge that is within the upper echelons of intermediate trophy hunts.
A Plague Tale: Innocence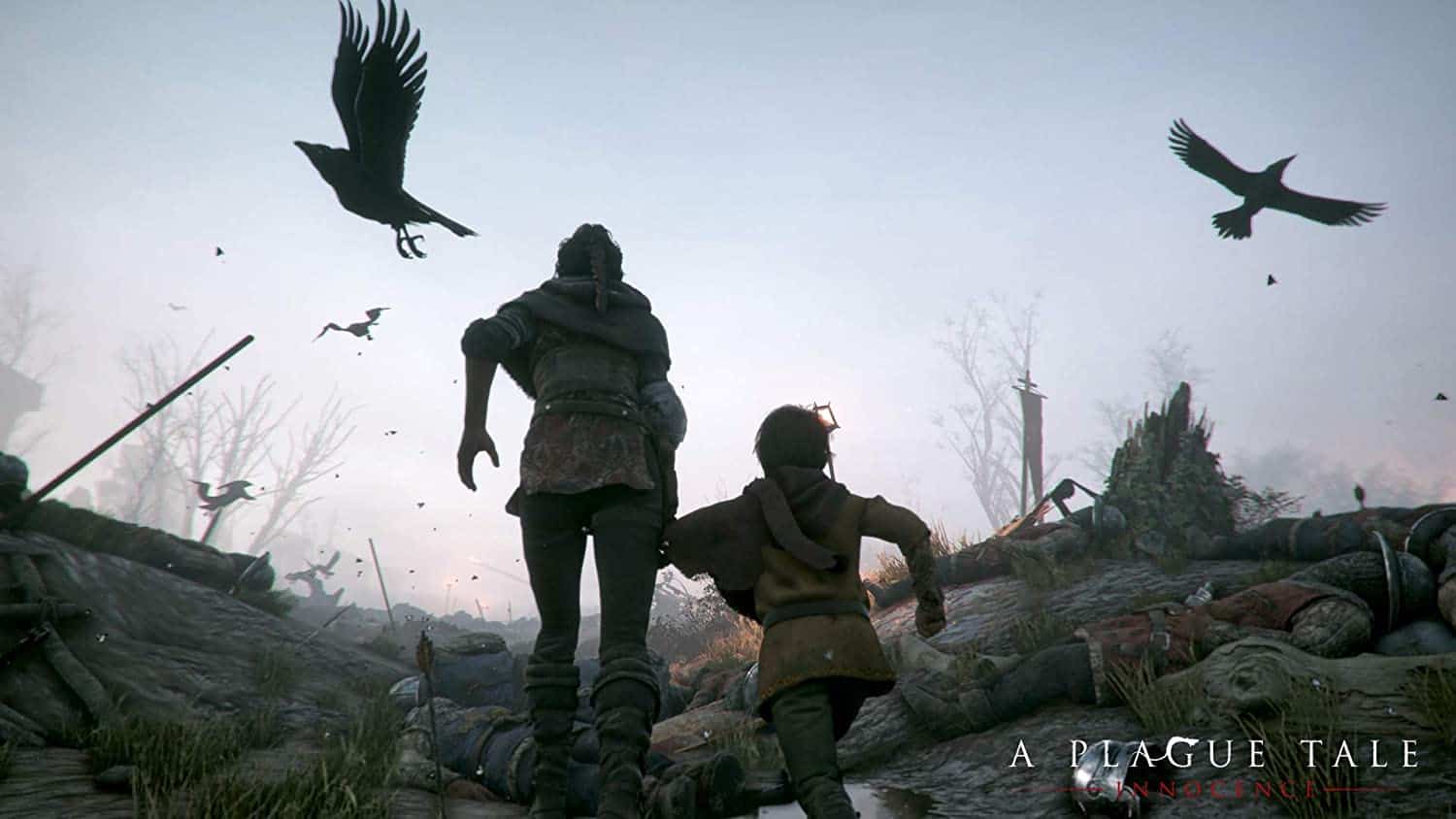 Genre: Narrative RPG
Difficulty: 3/10
Number of trophies: 36
Average Completion: 44%
Time to Complete: 15-20 hours
Playthroughs: 1 
Now we have a title that hits home now that we have been through a pandemic in our recent memory. Innocence: A Plague's Tale is a game that tells a touching story of a brother and sister who must overcome the odds to survive in a world where they are not only being hunted by invading forces but also from the spreading plague carried by hordes of infected rats. This game offers a unique experience that puts you in the shoes of Amicia, a character that has to use her brains instead of brawn or firepower to get through perilous situations.
This game is a great platinum experience that will ask players to complete the story, do a few miscellaneous tasks, and find some hidden collectibles in each stage. The game does have a chapter selection function that allows doing clean-up easier if you miss a few. However, as the chapters are exceptionally long, we would urge you to have a guide open as you play to avoid playing through long stints of this game over again. While it is a great game, Hugo is a bit of a whiner, and once is more than enough. Be sure to check this one out.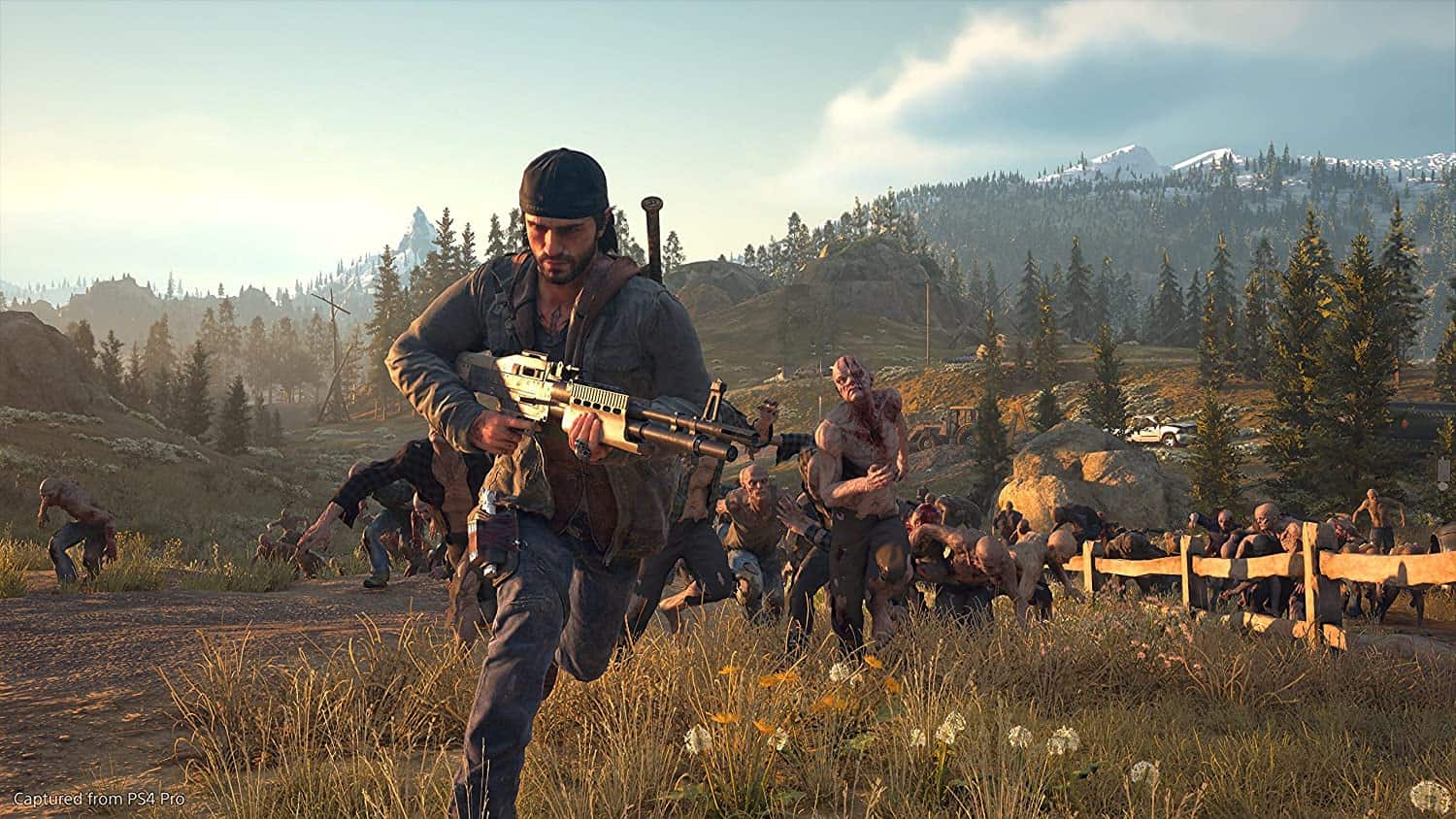 Genre: Action RPG
Difficulty: 4/10
Number of trophies: 61
Average Completion: 31%
Time to Complete: 50 hours
Playthroughs: 1 
This one is a title that I was reluctant to put on this list. This is a game that I took on in an attempt to platinum and add to my collection. Yet, after thirty hours of gameplay and zombie killing, I had to call it a day. However, I can see the merit of this game. The gameplay mechanics such as the fun bike riding traversal, the combat, and the vast open-world to explore are all positives of this game. However, the lifeless and stilted story that seemed to go on indefinitely with no end in sight was just too much for me. However, after some research online, it seems that this game has a dedicated cult following, and like Marmite, you either love it or you hate it.
Putting my feelings aside for this game, the trophy list is very doable. All you have to do is play through the story and gradually check off all the points of interest on the map. Plus, you'll have to pretty much master the combat on offer within this game to take down the hordes. However, if this sounds appealing to you and you want to engage in a new undead adventure, you can do a lot worse than Day's Gone.
Concrete Genie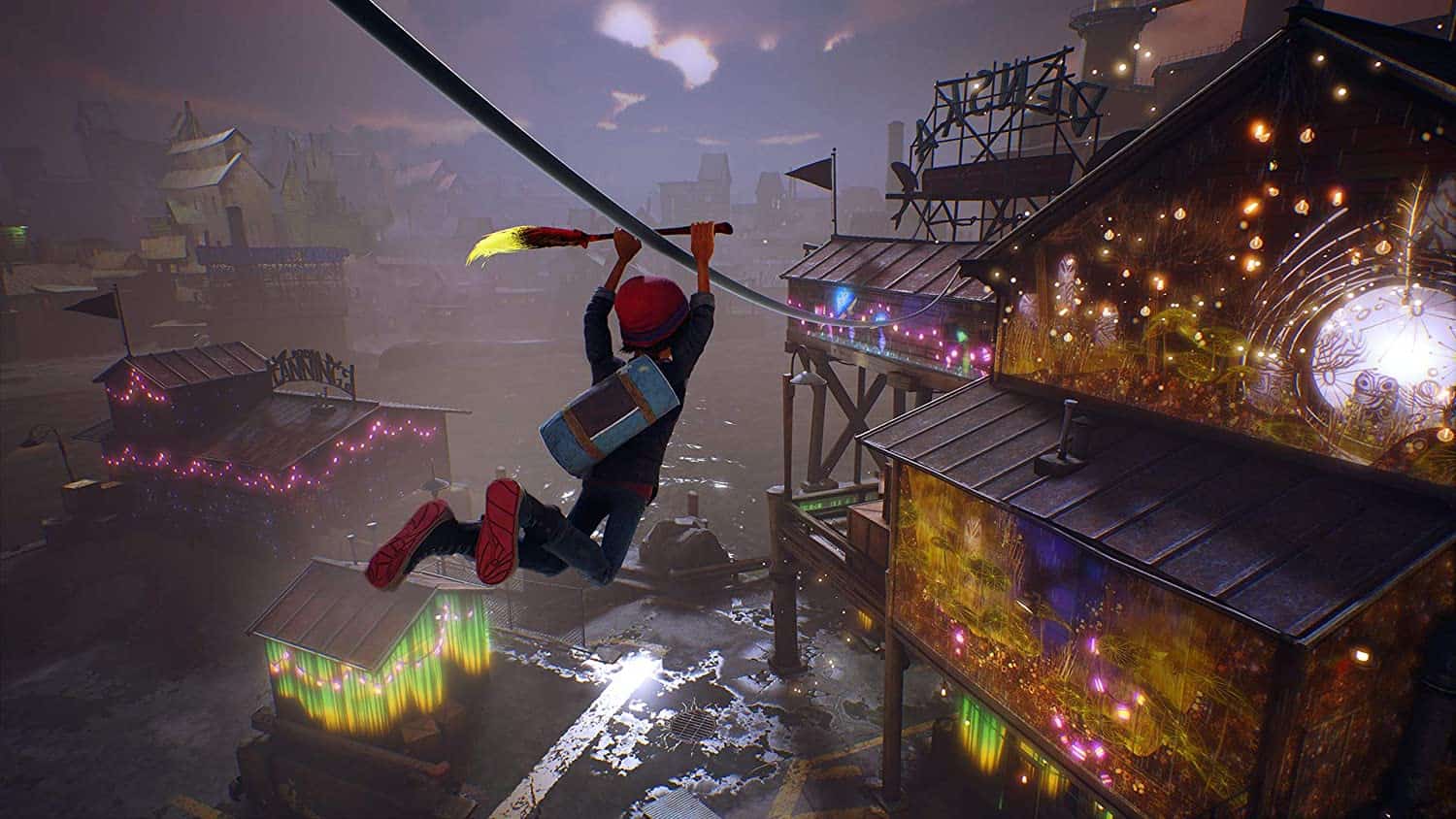 Genre: Indie Adventure 
Difficulty: 2/10
Number of trophies: 56
Average Completion: 45%
Time to Complete: 10-15 hours 
Playthroughs: 1 
Some games come out of nowhere and stun the gaming collective with their new and innovative take, not only on the art of game design and storytelling but also with the game's use of the hardware. Concrete Genie is one of the most delightful games of the Playstation exclusive line-up and allows players to use the power of creativity to overcome adversity and repair your dull and depressing hometown and restore it to its former glory.
Then as for the trophy list on offer here. We are happy to report that if you complete the game in full, fulfill some end game responsibilities with Luna in the lighthouse, collect all the pages scattered throughout the map and paint the surfaces as an artist possessed, and you'll have shiny new platinum for your collection. It's a very chilled-out and cathartic gaming experience and something that's out of the box, so we fully endorse this one.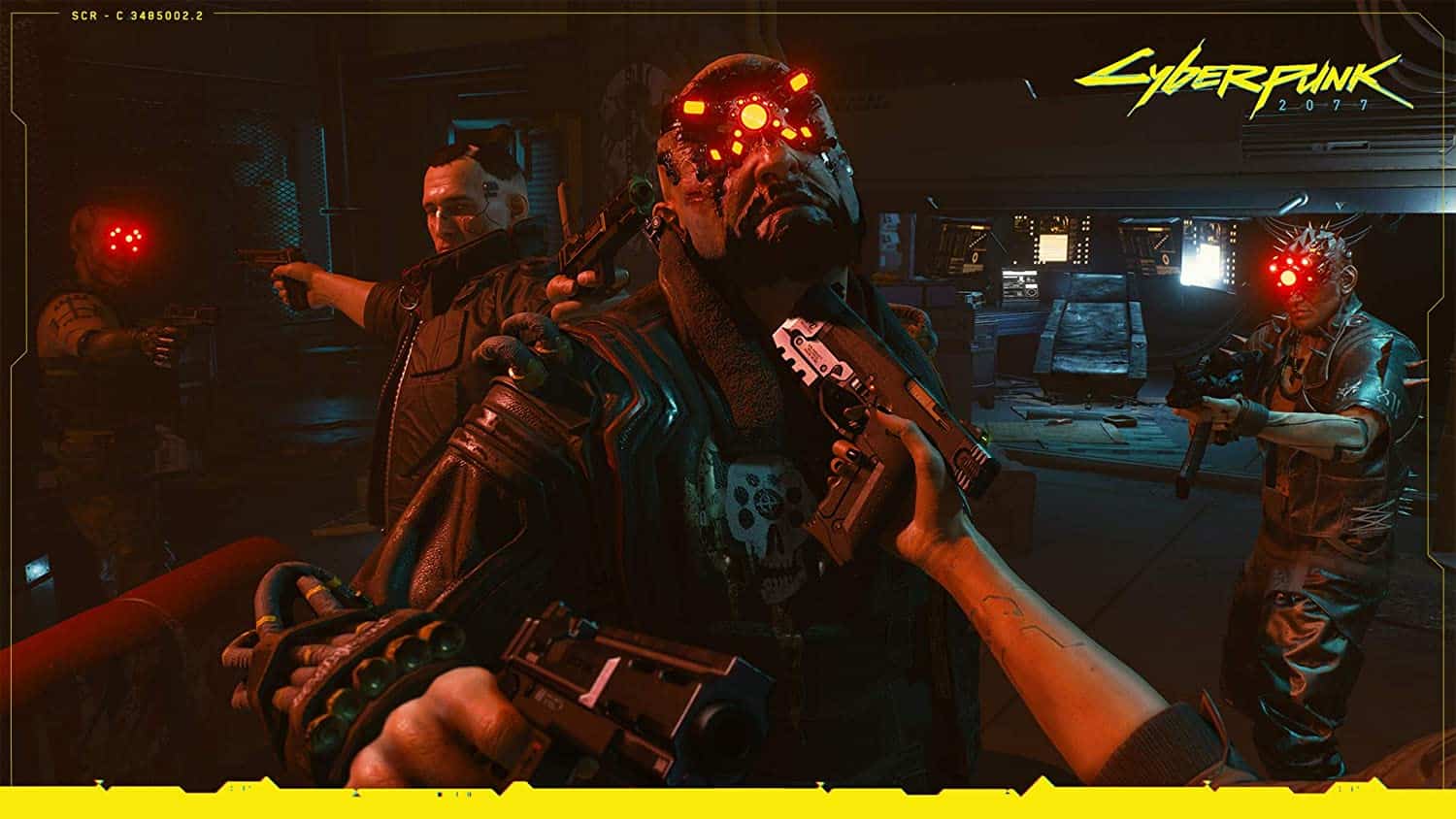 Genre: RPG
Difficulty: 3/10
Number of trophies: 35
Average Completion: 12%
Time to Complete: 60-70 hours
Playthroughs: 1 
Okay, now before you jump down our throats and tell us the hundreds of ways that this game glitches, bugs out, and disappoints players across the board, just hear us out. This game has come on a long way since its troubled launch, provides a much more enjoyable and immersive experience, and best of all, you can make it through the game without any crashes, game-breaking bugs, or glitched trophies. No one argued the fact that, when this game purred, it delivered moments that were truly staggering in terms of quality, and now, we would say that almost the entire game achieves this high standard.
Then with regards to the trophy list, you'll be happy to know that if you enjoy fun quests, intense combat, you have a love for exploration; this is a great choice for your next platinum hunt. The only thing we will say is that it will take you quite some time to get through the ample supply of content packed into Night City and its borders. However, if you are up to the challenge, Cyberpunk 2077 is finally ready for you.
Call of Duty 4: Remastered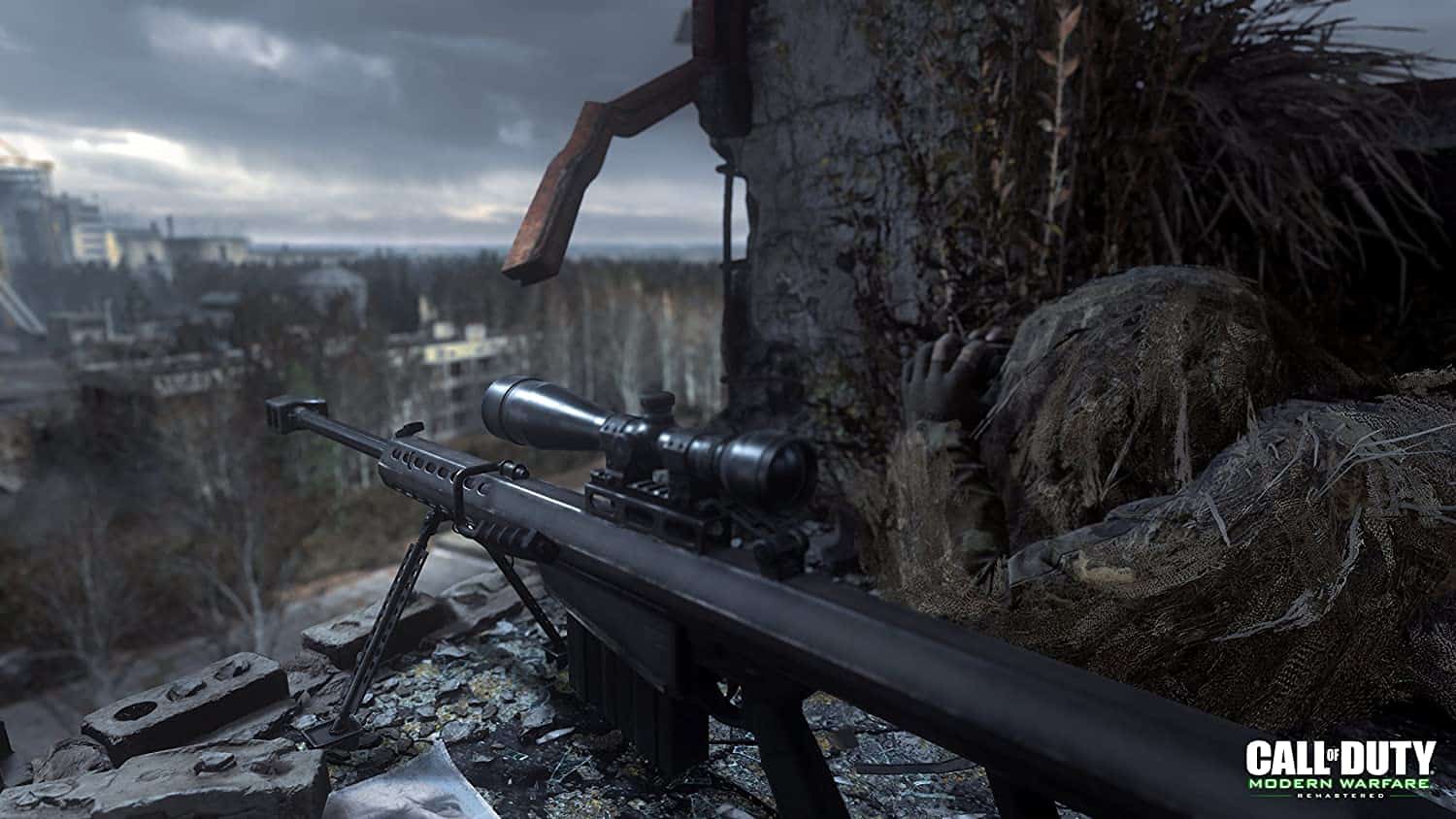 Genre: First Person Shooter 
Difficulty: 4/10
Number of trophies: 51
Average Completion: 9.5%
Time to Complete: 20 hours 
Playthroughs: 1 
Call of Duty has gone through quite a several drastic changes since its breakout success with Call of Duty 4: Modern Warfare. We mean, COD is a battle royale title first and foremost these days. However, I would personally argue that none of the many titles that came after this one can even hold a candle to the incredible campaign, maps, missions, and gameplay that this one offered. Is this opinion fuelled by bias and nostalgia? You bet, but I'm writing the list, so you better get on board.
One thing that all platinum hunters will be able to get on board with is that this platinum is fun, adequately challenging, and looks impressive on your trophy hunting resume. For this one, you'll have to beat the game on veteran, including the Mile High Club mission, collect all the hidden intel and do some more trivial things like beat the introductory missions assault course with the fastest time within the regiment. Small order for a quality soldier like Soap Mactavish. So jump back into this groundbreaking FPS classic and get your just rewards.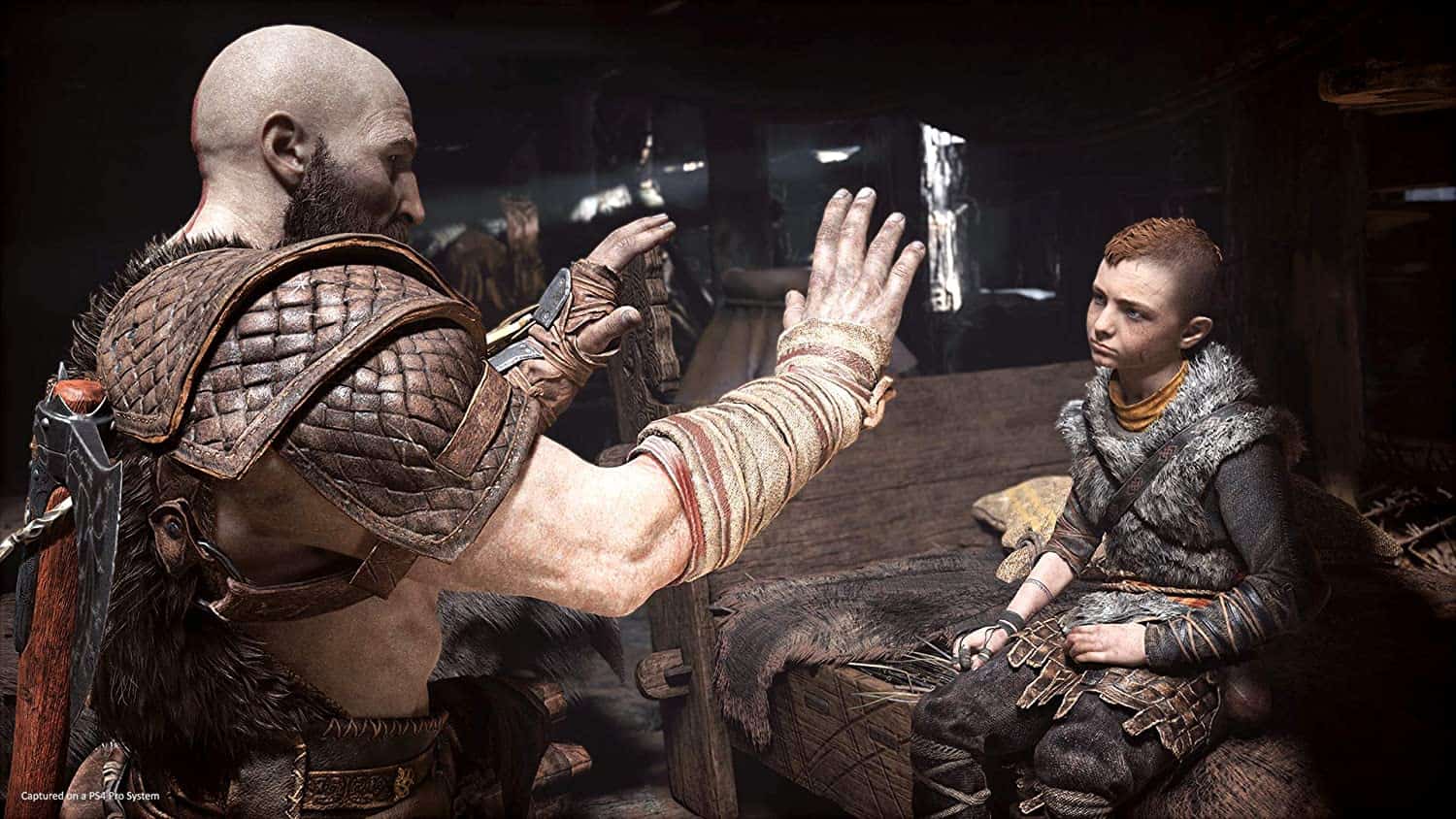 Genre: Action Adventure 
Difficulty: 3/10
Number of trophies: 37
Average Completion: 29%
Time to Complete: 30 hours 
Playthroughs: 1 
"Boy!" The immortal words of a fatherly God slayer. God of War is a series that many of us have grown up with, but when the 2016 reboot was released, many gamers were shocked with the complete change of pace that the series took, abandoning its visceral, one-note, hack and slash gameplay for much more narrative-driven content and refined, nuanced game mechanics. It was a bold move to make from Santa Monica Studios, but one that paid off massively and has been received favorably by long-time fans of the series and newcomers alike.
This game not only has a superb story that lives up to the star quality of the IP. The game also has a trophy list that offers a fair challenge, plenty of content to get through, and a very satisfying platinum journey. Just beat all the Gods and bosses to a pulp, complete all the quests on offer and pick up all the collectibles and armor sets. Easy, right?
The Elder Scrolls: Skyrim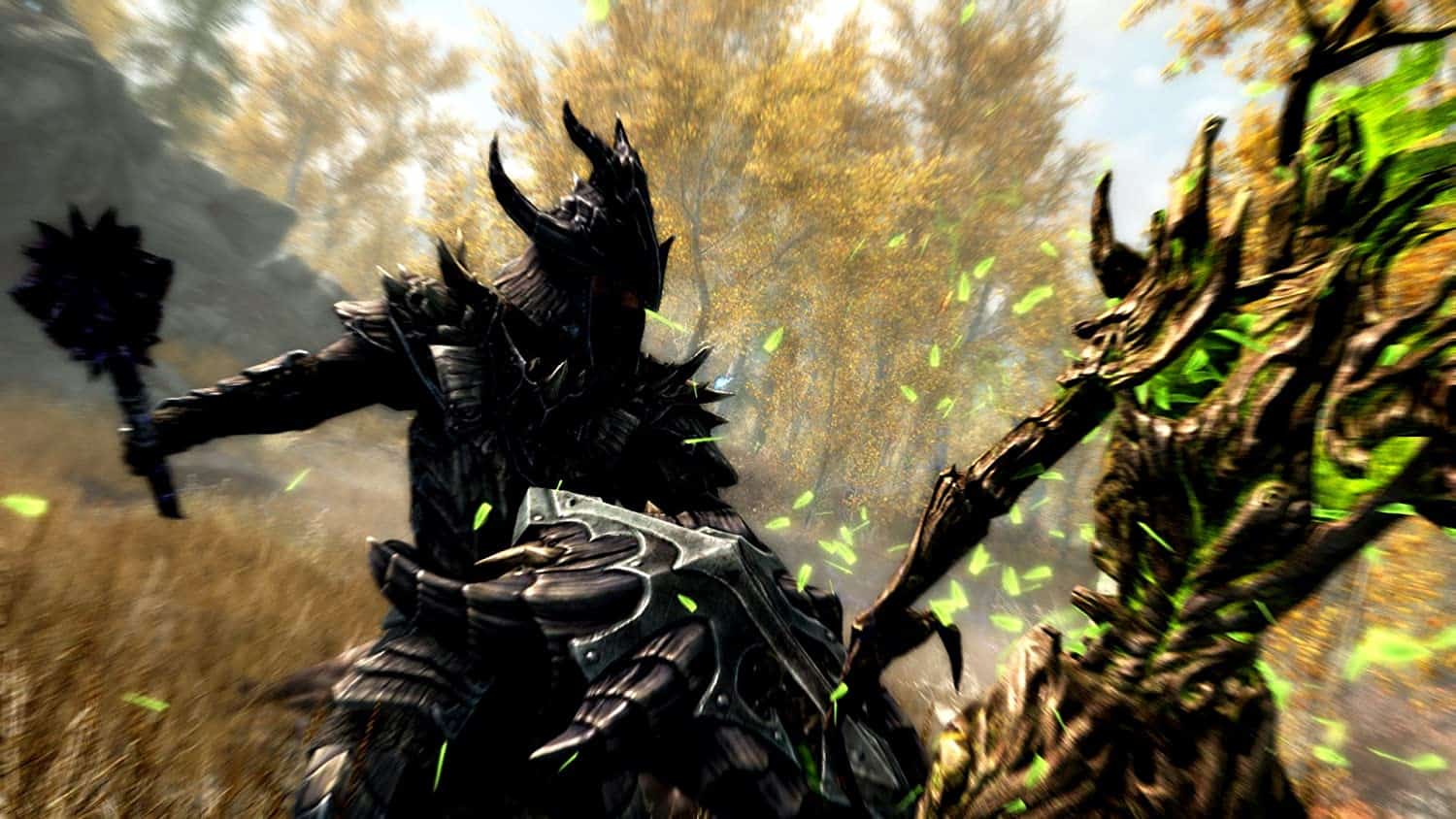 Genre: RPG
Difficulty: 2/10
Number of trophies: 76
Average Completion: 15%
Time to Complete: 60-80 hours 
Playthroughs: 1
Then lastly, on this list, we have the game that Bethesda has been milking dry for going on a decade. Skyrim, despite being a PS3 release, still offers a gameplay experience that is as brilliant and rich as any of the RPGs which have come out in the last few years. Largely down to the abundance of re-releases with quality of life additions and graphical adaptions. However, it's also down to the sheer brilliance of the game world, quests, characters, and RPG mechanics within this modern classic.
Then as for the platinum, we admit that this one is a slow burn, and this one will take you quite a while. Mostly down to the wealth of content on offer here. However, if you are willing to dedicate yourself to this enthralling adventure, you'll have earned a platinum, and we assure you, the road to success is a satisfying one filled with wonder.
100% Trophy Hunter Satisfaction Guarantee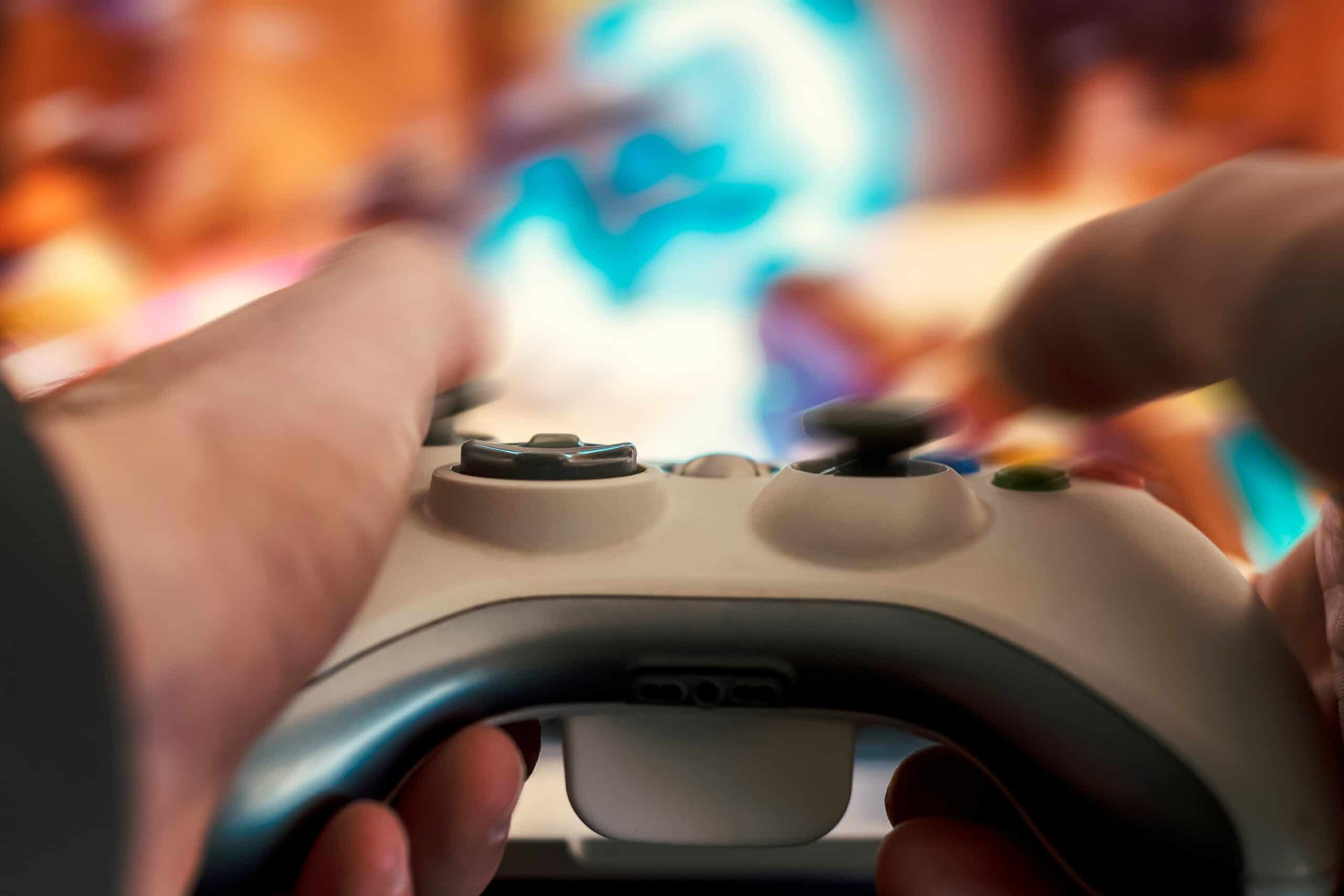 As you can see from the list above, there are so many titles out there that offer a satisfying trophy hunting experience. Games that don't patronize the player and throw trophy after trophy your way. Yet equally, don't see you grind for hundreds of hours just to see a slither of success. These games are great options for intermediate hunters and hunters that value their gaming experience just as much as their achievement hunting experience. So with this list, we urge you to go forth, rack up trophies and then stun your friends with your gaming prowess.
FAQs
Question: Is this an Exhaustive List?
Answer: Not at all; if we listed absolutely every game that offers a satisfying trophy hunting journey, we would have been writing this article for eternity. However, what we can do if you want to extend your backlog, even more, is offer some honorable mentions. Here are our honorable mentions listed below:
Control
The Forest
Spiritfarer
The Last of Us Part II
Vampyr
The Outer Worlds
Question: When is a Platinum Trophy Considered Common?
Answer: While Sony does set certain parameters as to which platinum are considered rare, ultra-rare, or common, we think that they are a little generous. We would say that for a platinum trophy to be considered common, there should be at least 40-50% of players on average that have the trophy in their virtual cabinets.
Question: What is the Most Satisfying Platinum on this List?
Answer: This is a tough one because different players will have differing opinions on this. After all, satisfaction depends on the person with the controller in hand and their preferences. However, since I'm the only one here to voice their opinion, I would personally say that the top three options on this list would probably be Kingdom Hearts HD 2.5 Remix, Horizon Zero Dawn, and Marvel's Spiderman.