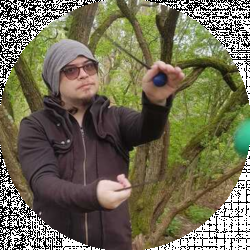 Latest posts by Anthony Yates
(see all)
Empyrean's House Flipper joins the ranks of games like Power Wash Simulator and Mudrunner in being far better and more addictive than they have any right to be. Many titles cash in on the 'simulator' craze, some with questionable quality. As the old saying goes, 'Cream rises to the top,' and that's where we find ourselves with House Flipper. A game you can comfortably sink hundreds of hours into and have a great time.
House Flipper is a strange title for Trophy Hunters as the most optimal strategies feel like they go against the 'spirit' of the game. The Trophies are meant to take dozens of hours with their cryptic descriptions, but they can also be beaten quickly once you know how. In this House Flipper Trophy guide, I'll provide tips for every Trophy and strategies to sell your properties to the fussiest buyers in the game.
I'll also suggest an order to target the Trophies to make your journey to the Platinum as smooth as possible. Grab your tools and your negotiator skills, and let's get started.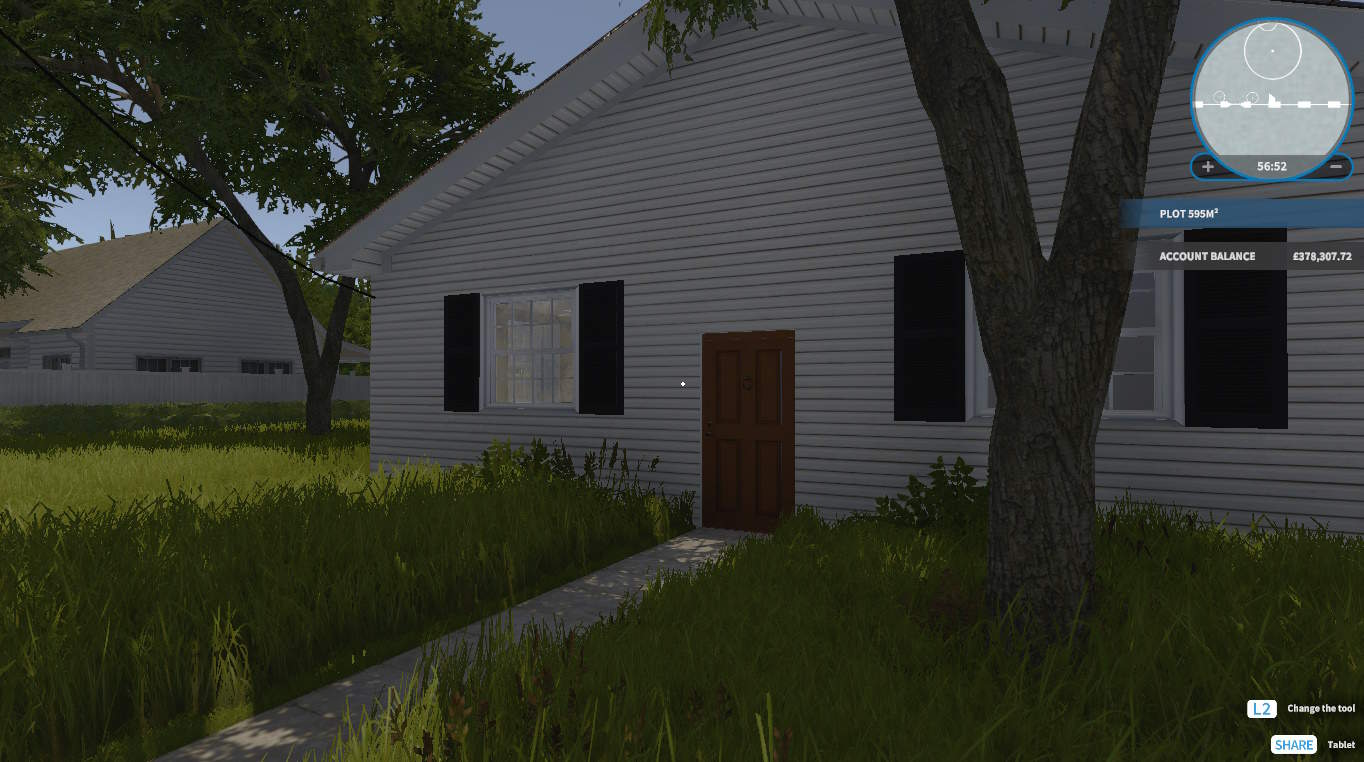 Key Info Up Front
Genre: Simulator
Difficulty: Very Easy
Average Time for 100%: 20 hours (if you're enjoying the process and playing at a relaxed pace, this can easily take 80 hours or more)
Total number of Trophies: 24
Roadmap to Success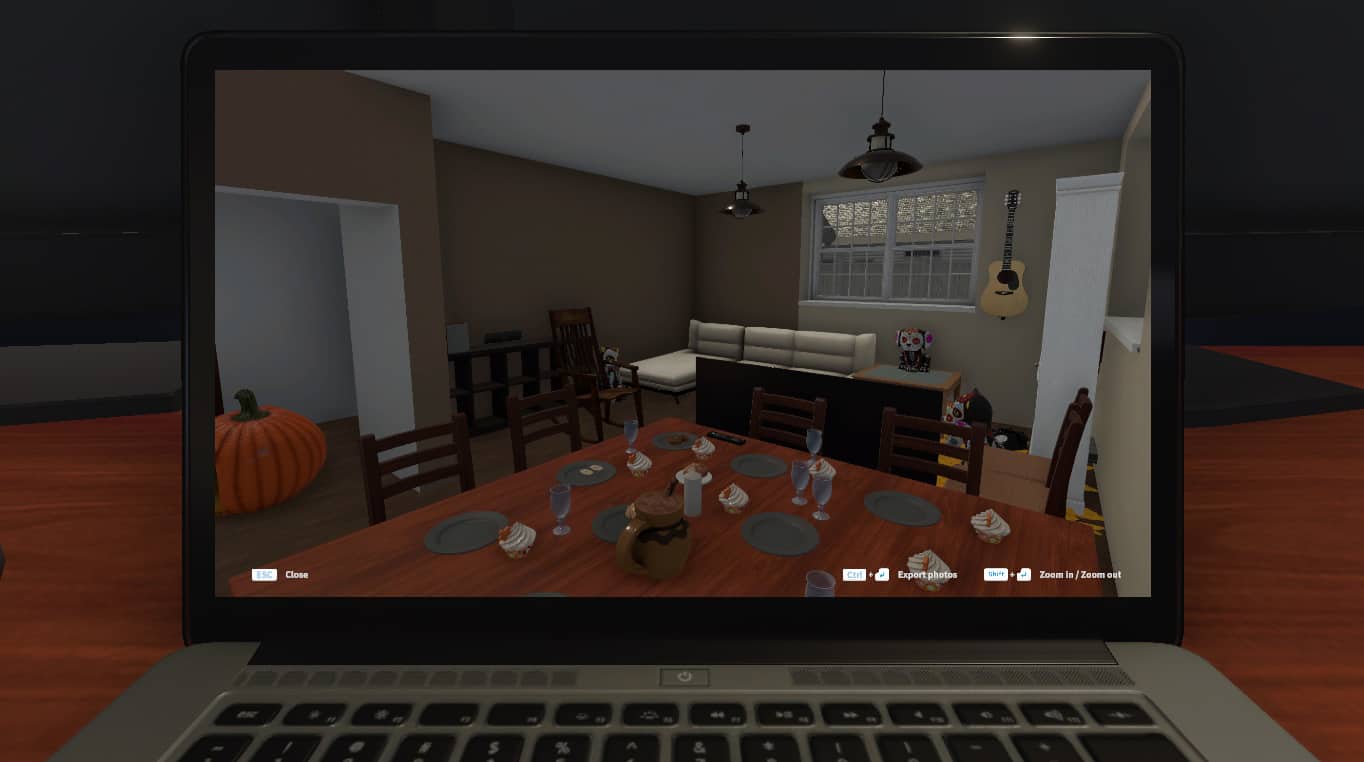 In this section, I'll explain an order you can use to approach House Flipper's 24 Trophies. Ultimately, you can tackle them in any desired order, but orders are a great place to start.
Complete the Orders First
Orders are the requests you'll find in the mailbox on your laptop. Each one challenges you with cleaning/repairing/renovating various houses. The longest overarching Trophy you need to be aware of is Perfectionist, which requires every order to be completed 100%. With this in mind, ensure you're completely finishing orders before leaving them. These are all the Trophies you can unlock during these orders:
First Money
Strongman
Car Mechanic
Do it ASAP (Only attempt with max rank cleaning perks)
Perfectionist
Buyer-Related Trophies
What would a game about flipping houses be without a list of potential buyers to appease? Each buyer has a Trophy you can earn when you sell your first property to them. It makes sense to tackle these after the order-related ones, as you'll have the capital to do so and enough spare change to cover any mistakes.
Pro-creative
Mystery
Worth Every Penny
Just Enough
Alpha Male
Family Man
Artistic Soul
I'm a Belieber
Wall Street Shark
Knock Knock – Not a buyer Trophy, but you can earn this one at the same property you'll set up for Wall Street Shark.
Geek
End Game Trophies
These are the Trophies you should shoot for after you've sold a property to each buyer. You'll be working toward the 'Estate Agent' Trophies and 'Millionaire' during your sales.
Junior Estate Agent
Estate Agent
Senior Estate Agent
Millionaire
Game Over
You're doing it wrong
Negotiator
How to Clear Orders as Fast as Possible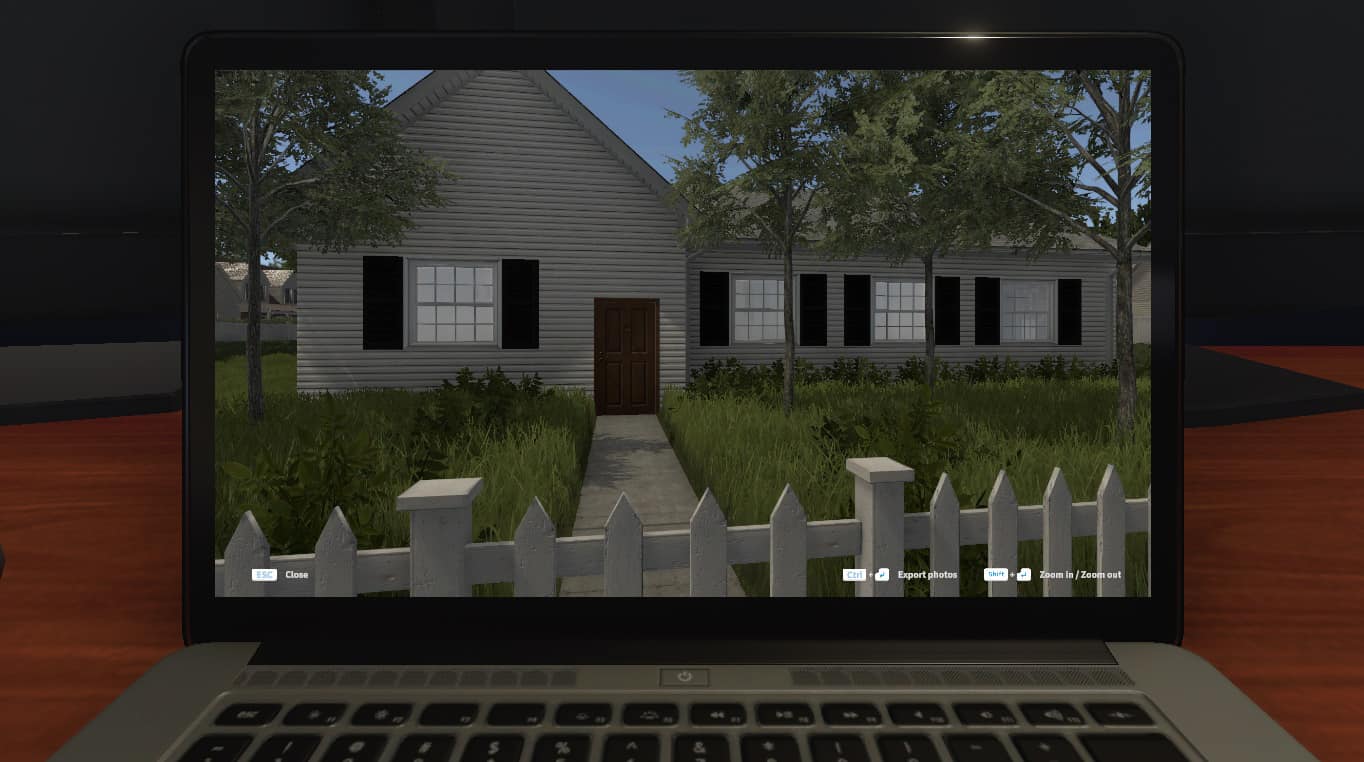 I recommend completing every order before trying your hand at house flipping if you're trying to get every Trophy as fast as possible. Completing every order is part of the 'Perfectionist' Trophy, and you'll unlock essential perks while working through them.
For the 'Perfectionist' Trophy, you need to complete every order 100%, but I can offer a few tips to finish them quickly. Here are a few time savers:
If a room requires multiple paint colors for the walls, you can just use one.
House Flipper doesn't mark you for presentation. You can drop all the required objects for each room on the floor by your feet if you want.
If you're on a PC, plugging a controller in for cleaning windows is much faster.
Walls on the inside of window frames don't count towards painting/tiling %
You can quit jobs and resume them later from your laptop.
If you revisit a previous order and don't finish it, the completion % will drop to whatever you achieved on your most recent attempt.
Best Perks to Unlock First
There are a few perks that make a massive difference to your overall work speed. Ultimately, you'll unlock most of them on your way to the Perfectionist Trophy, but the ones you should prioritize are:
Penetrating Vision – Essential as it displays dirt on the map
Long Range – Better mop and makes collecting trash much easier
Basic Painting – Prevents paint wastage and reduces usage
Tiler – Tiling is slow and tedious. This greatly speeds up the process
Higher Payment – Orders give 50% extra payment at max rank
The Trophy List
House Flipper has a grand total of 24 Trophies (Including the Platinum) in the base game. Many have low completion ratings as the average player won't earn them during standard play. It doesn't help that most of the Trophy descriptions are cryptic. There aren't any problematic tasks in this list, but some are much more time-consuming than others. I've ordered these Trophies based on completion rating, from most common to rarest.
First Money
Description: Complete first order.
Completion Rating: 95.7%
You'll complete First Money as part of House Flipper's tutorial. There's no way to fail; once the first request is complete, the Trophy is yours.
Strongman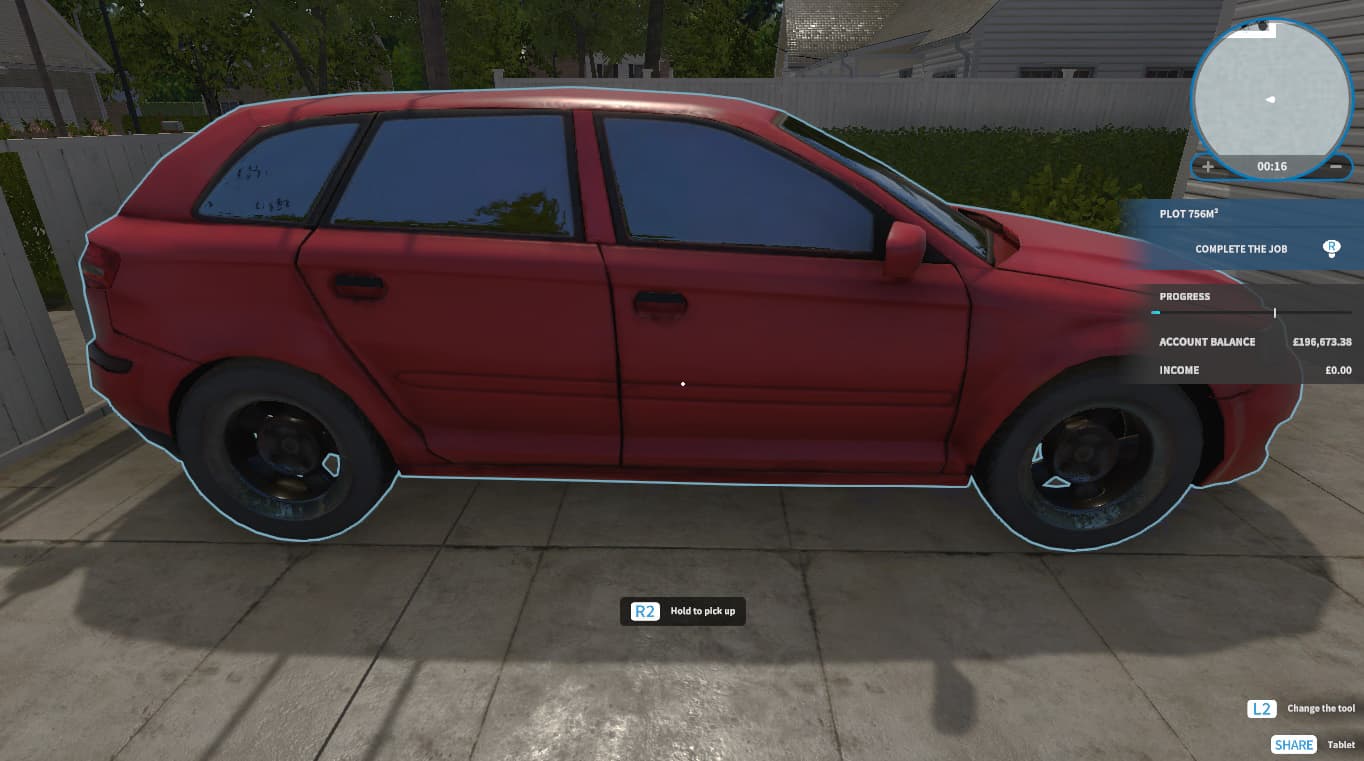 Description: Do you even lift?
Completion Rating: 54.2%
For the Strongman Trophy, you need to try and pick a car up. The best vehicle for this is on the driveway in the order 'Cleaning the garage' by Caroline Smith. Walk up to the vehicle, hold R2 for a moment, and the Trophy is yours.
Pro-Creative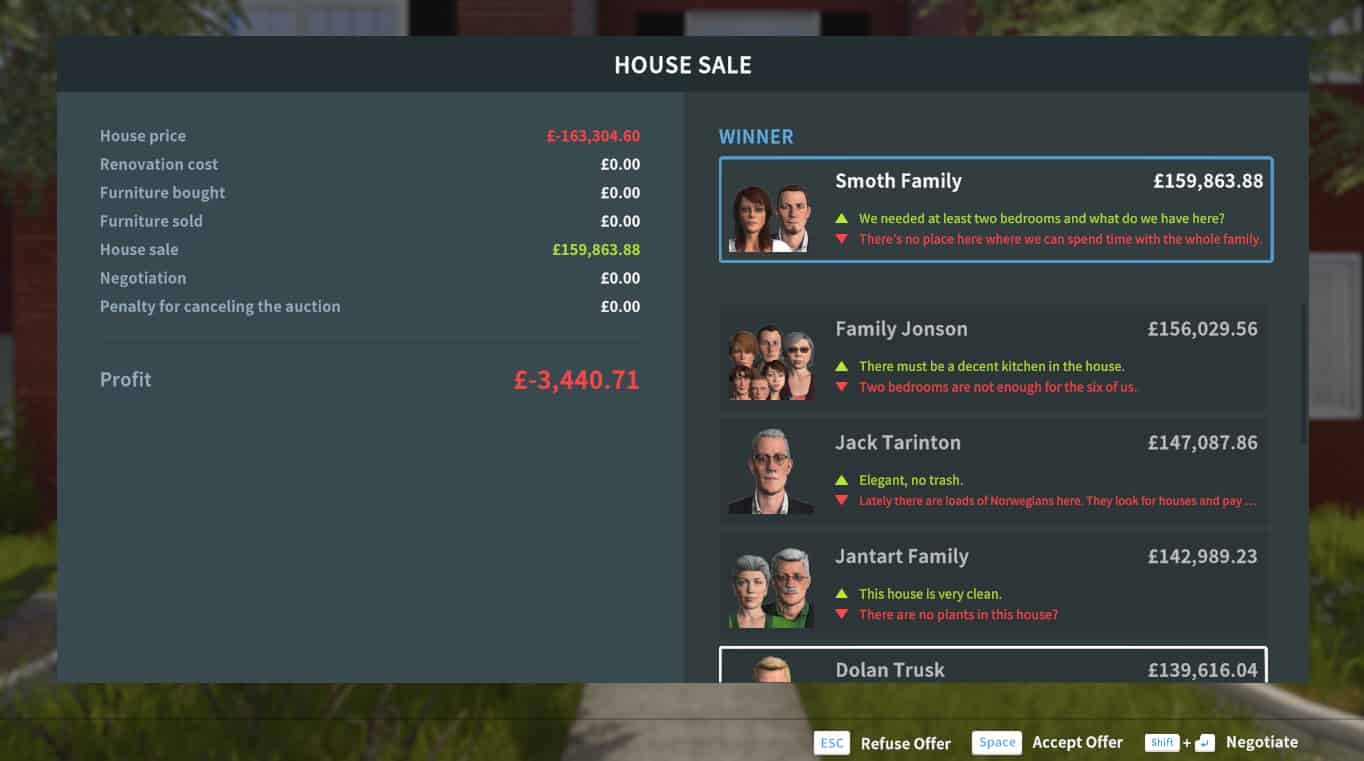 Description: You know, when you're in love, you can't get sleep… because of your kids screaming around the clock!
Completion Rating: 52.82%
For Pro-creative, you need to sell a house to the Smoth family. Fortunately, the process couldn't be simpler. Buy the 'Family House,' then immediately sell it. The Smoths will buy it in its unaltered state, and if you have the Negotiation perk 'Price Negotiation maxed out, you can easily up-sell for a small profit too,
Worth Every Penny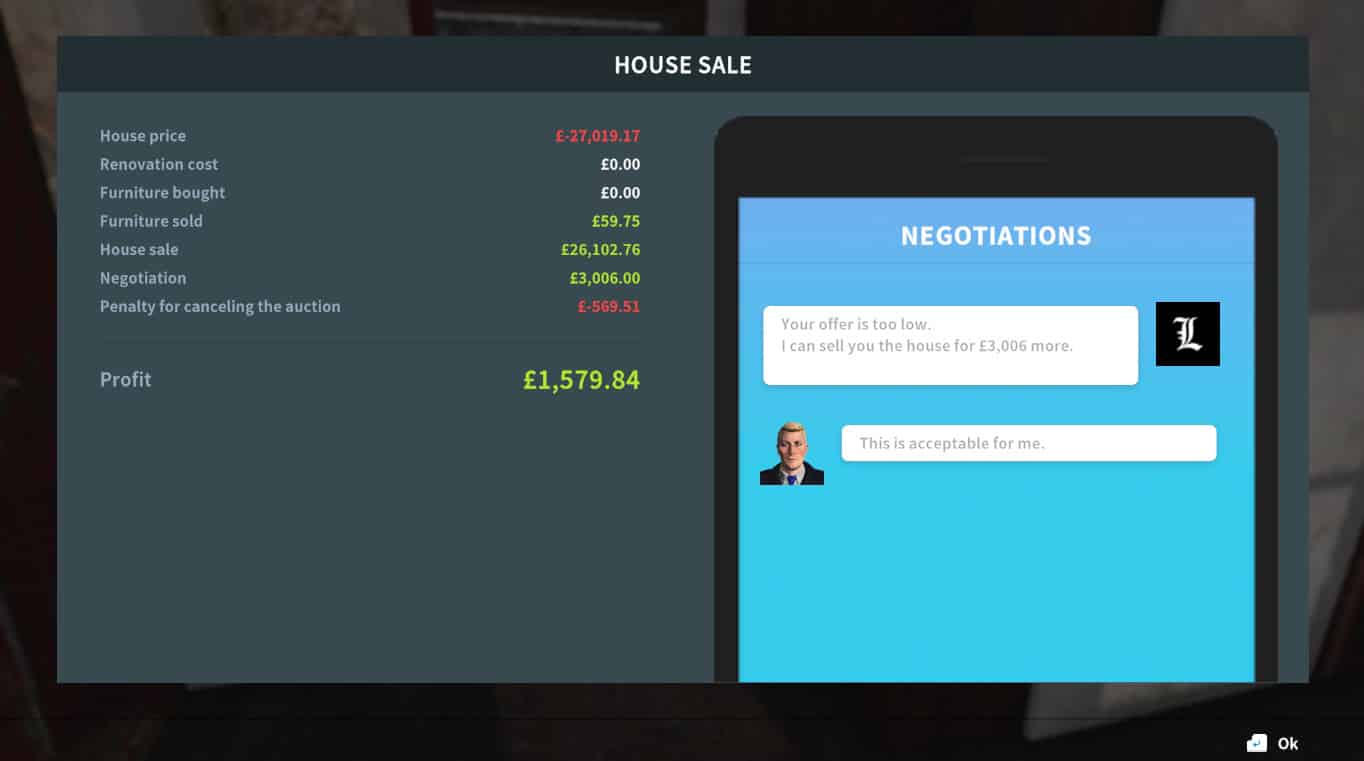 Description: Mind over matter, Money over all.
Completion Rating: 45.8%
You need to sell a house to Dolan Trusk for this Trophy. Buying the Burned House is an easy and cheap way to do this. You'll need to make a few minor improvements, but they are inexpensive, and you can do them all within 5 minutes.
Remove all trash.
Clean every dirt patch with the mop.
Repair 2 electrical outlets. (The ones in the bedroom and hallway are fine).
Sell the bed and sofa.
I purchased a radiator for the kitchen, but this is optional. Jimmy Traitor will usually be at the top of the list, but he will drop when you sell the bed. Once you've done this, Dolan Trusk should take the top spot, then you can sell the property. With any luck, you'll also be able to negotiate a small profit.
Alpha Male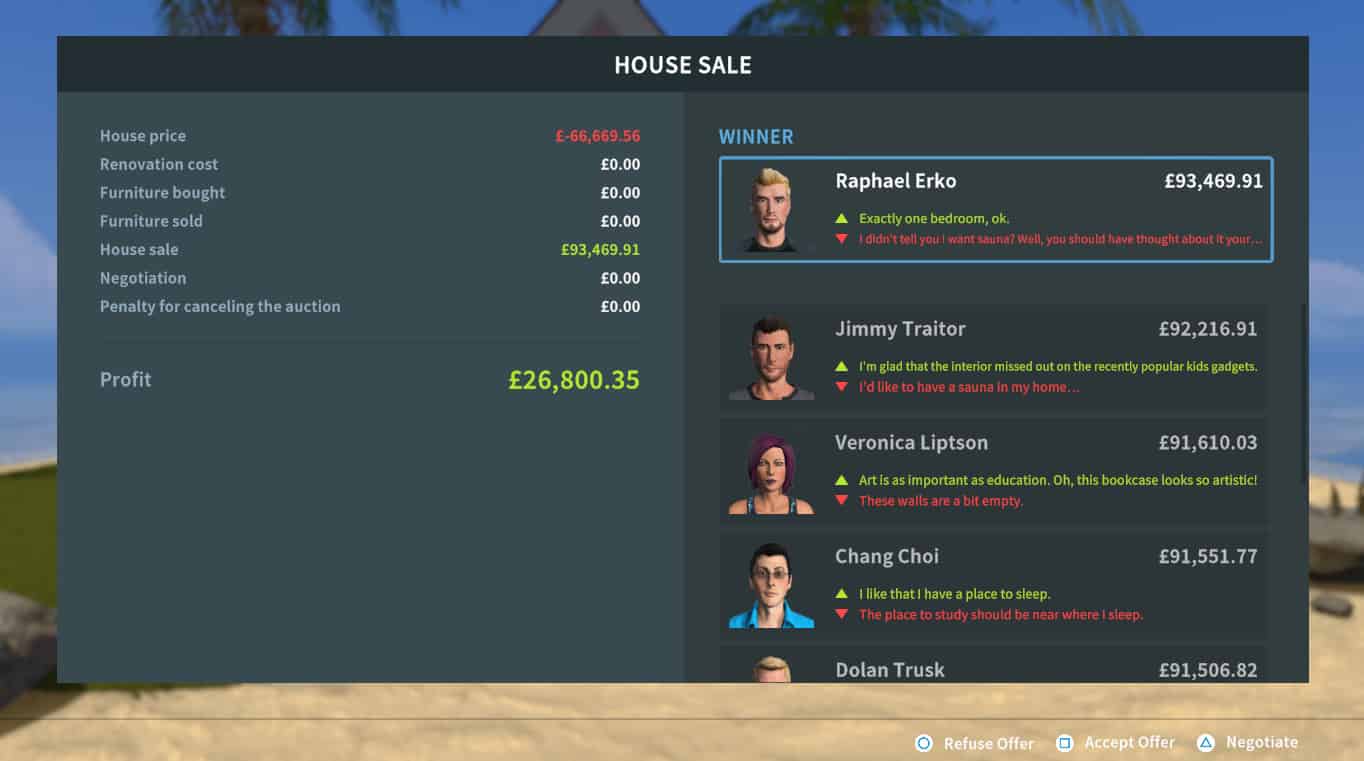 Description: What happens in the cave stays in the cave
Completion Rating: 44.5%
To unlock Alpha Male, sell a property to Raphael Erko. I've read multiple strategies for this one, but the easiest by far is to buy 'Turtle House.' It's relatively cheap, and you can sell it without even touching the property. For reasons unknown, buyers want to pay top dollar for the house. The image above is my profit without even negotiating!
There are reports of multiple houses, including the Home Admin-Legends working for this Trophy.
Just Enough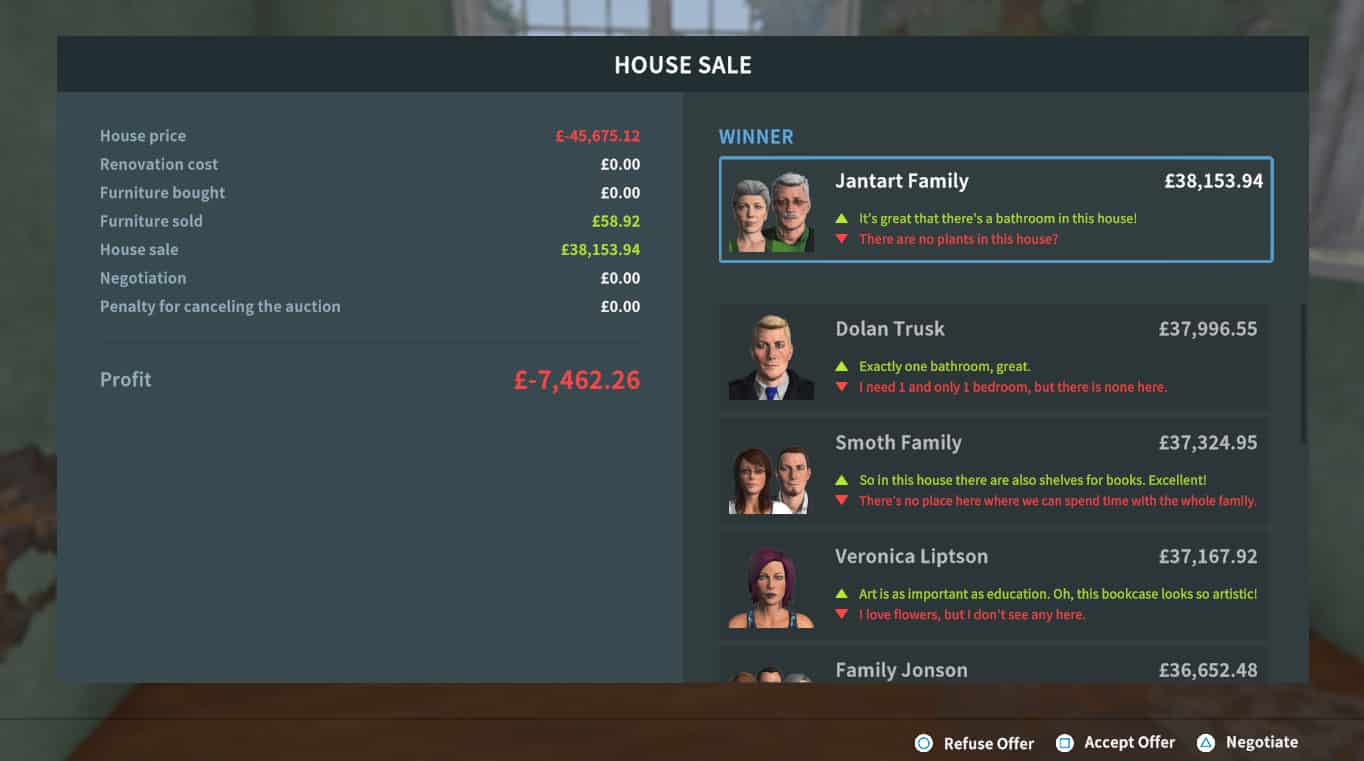 Description: Age is just a number. Live life fully, no matter how old you may be.
Completion Rating: 39.2%
You must sell a property to the Jantart Family to unlock Just Enough. An easy way to do this is to buy the 'House with uninvited guests.' Dolun Trusk likes this property from the get-go, but you can quickly change that by selling the bed. Clean up a little if you wish, but that should put the Jantart Family on top so you can make the sale.
If you're following the Road map to Success, you'll have a comfortable amount of money to take a few hits to your profit, but I could not negotiate a profit with this one and had to eat a 7000 loss.
Family Man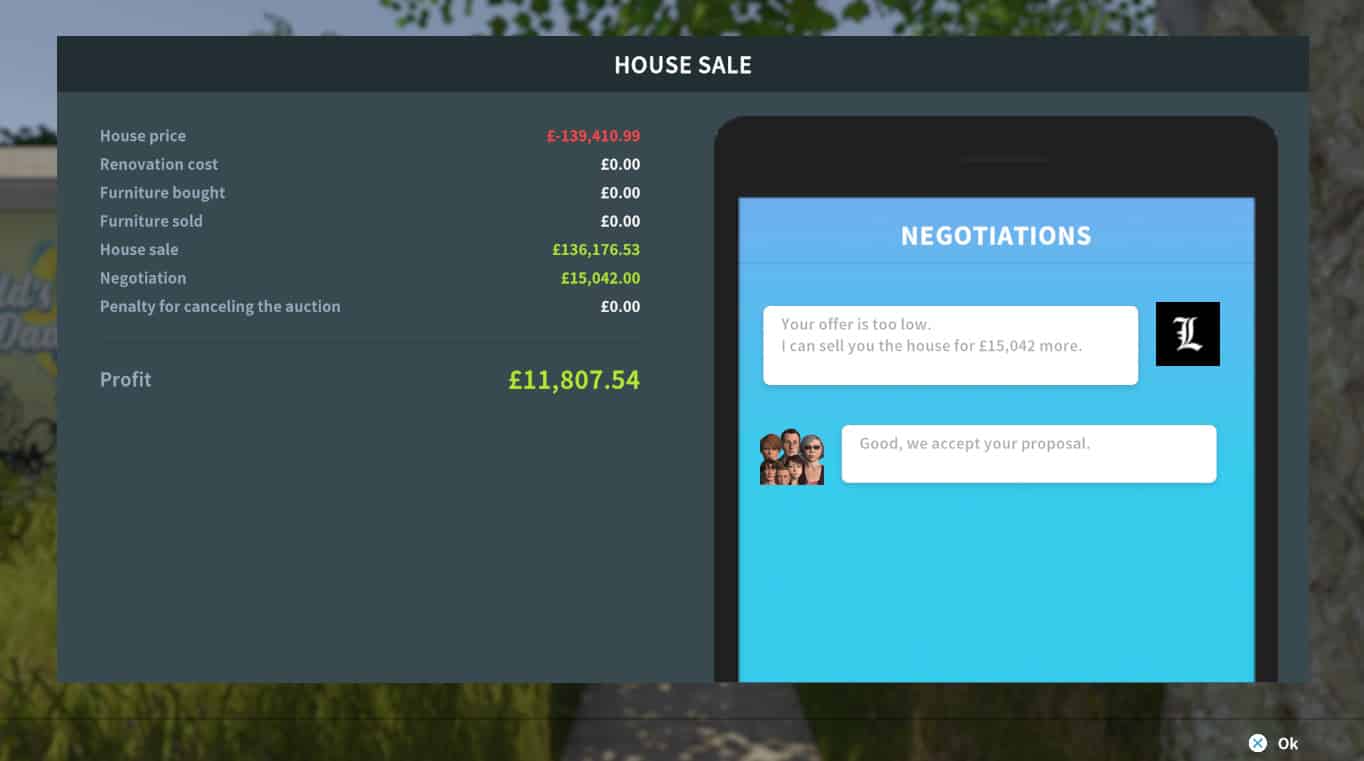 Description: Family isn't just an important thing. It's everything.
Completion Rating: 27.5%
To earn the Family Man Trophy, you must sell a property to Family Jonson. Judging by their likes and dislikes, they have lofty requirements, but fortunately, there's a property they will buy from you the moment you obtain it. Purchase the Man Cave and immediately sell it. You don't even need to step foot inside the house. Negotiating a small increase to cover your losses and even making a small profit is possible.
Junior Estate Agent
Description: Sell 10 Houses
Completion Rating: 23.0%
There are no special tricks for this one. Sell 10 houses, and you'll earn the Junior Estate Agent Trophy. If you sell homes to each buyer, you'll unlock this Trophy naturally.
Mystery
Description: Carpe diem!
Completion Rating: 22.2%
You'll earn the Mystery Trophy when you sell a house to Jimmy Traitor. If you want the brute force method and don't mind selling at a loss, buy the Home Admin Legends house. Don't clean or adjust the house in any way.
The only purchase you'll need to make is a coffee table. Any seems to work, but the Matkis Round Coffee Table is very cheap and should put Jimmy Traitor at the top of the list. Once he's there, sell the property.
Artistic Soul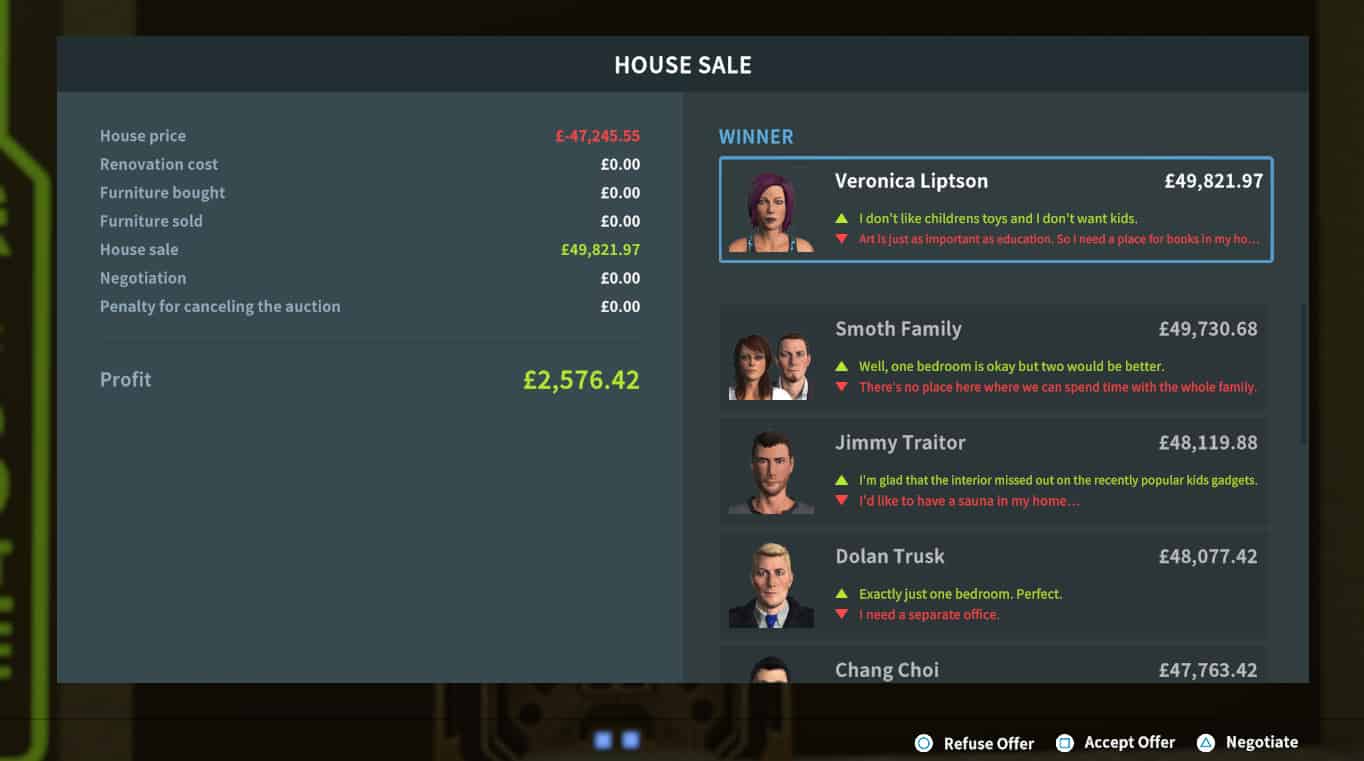 Description: Every child is an artist. The challenge lies in remaining an artist as an adult.
Completion Rating: 18.5%
This Trophy will unlock once you've sold a property to Veronica Liptson. It's a little on the nose, but as 'Artistic Soul' implies, Veronica loves paintings. You can drastically increase the likelihood of her buying any property by covering the walls in pictures. If you prefer the more 'hands off' approach, buy the Alleyway of Lights house and sell it immediately. You don't need to go inside, and Veronica will buy the house at a small profit too.
Perfectionist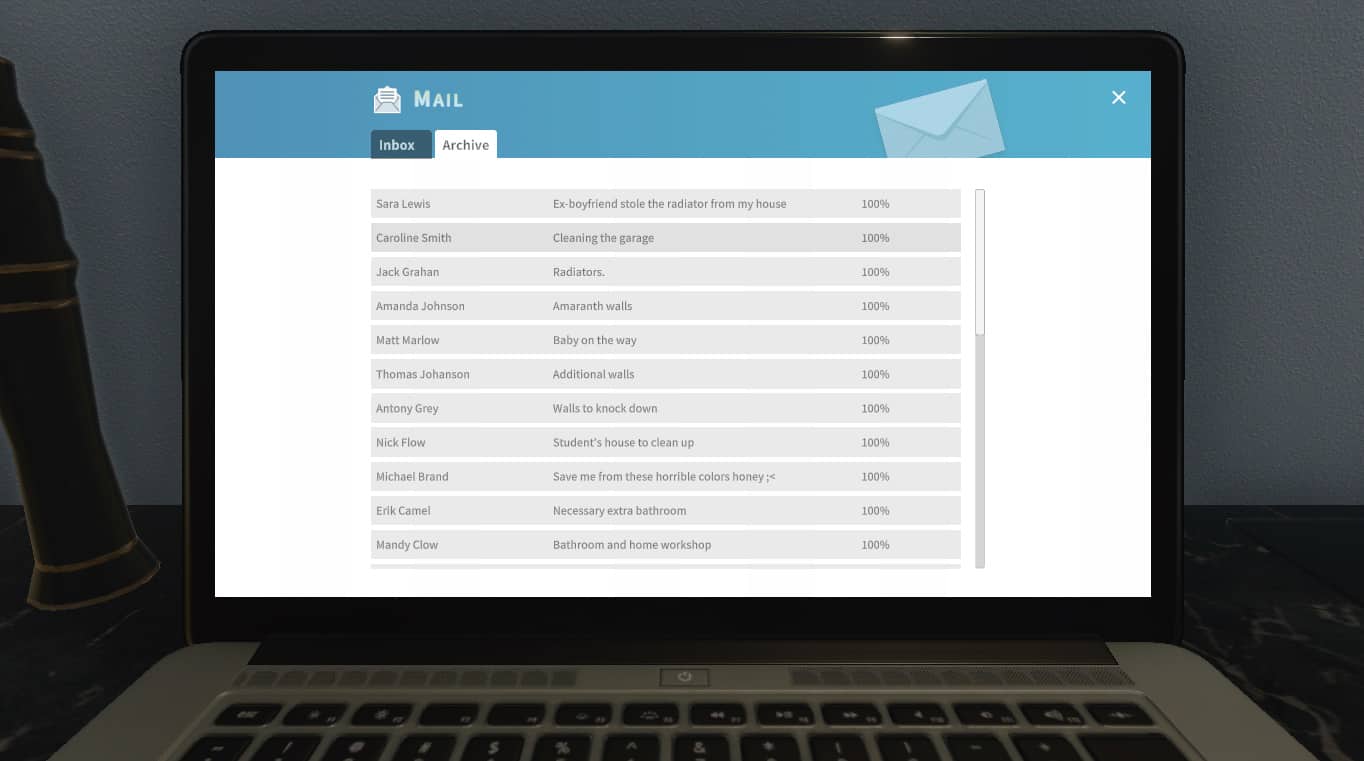 Description: Fully completed every order
Completion Rating: 12.0%
The Perfectionist Trophy is a big reason why I recommend completing every order first. Sadly, this Trophy has a few bugs, making it very frustrating to unlock. You need to reach 100% completion in every order (Max rank Penetrating Vision in the Cleaning Perks is essential). You can keep track of your completion ratings for each order in your Mail Archive. A complete list of 100% orders like mine (pictured above) should unlock the Trophy.
If you've purchased any DLC, the orders in each are added to the list for Perfectionist, so you'll need to do them for the Trophy even though Perfectionist is for the base game. A clever trick to get around that is to briefly uninstall the DLC. If you've got 100% on everything and the Trophy still doesn't unlock, retry one of the archived orders, and it should work.
Estate Agent
Description: Sell 20 Houses
Completion Rating: 11.3%
There's not much to say about 'Estate Agent.' You can sell any 20 houses to unlock the Trophy. You'll need to do this for the 'Game Over' Trophy anyway, so work your way through the buyer-related Trophies and then pick houses to sell as you see fit. If you don't care about profits, you can sell without cleaning or renovating.
I'm a Belieber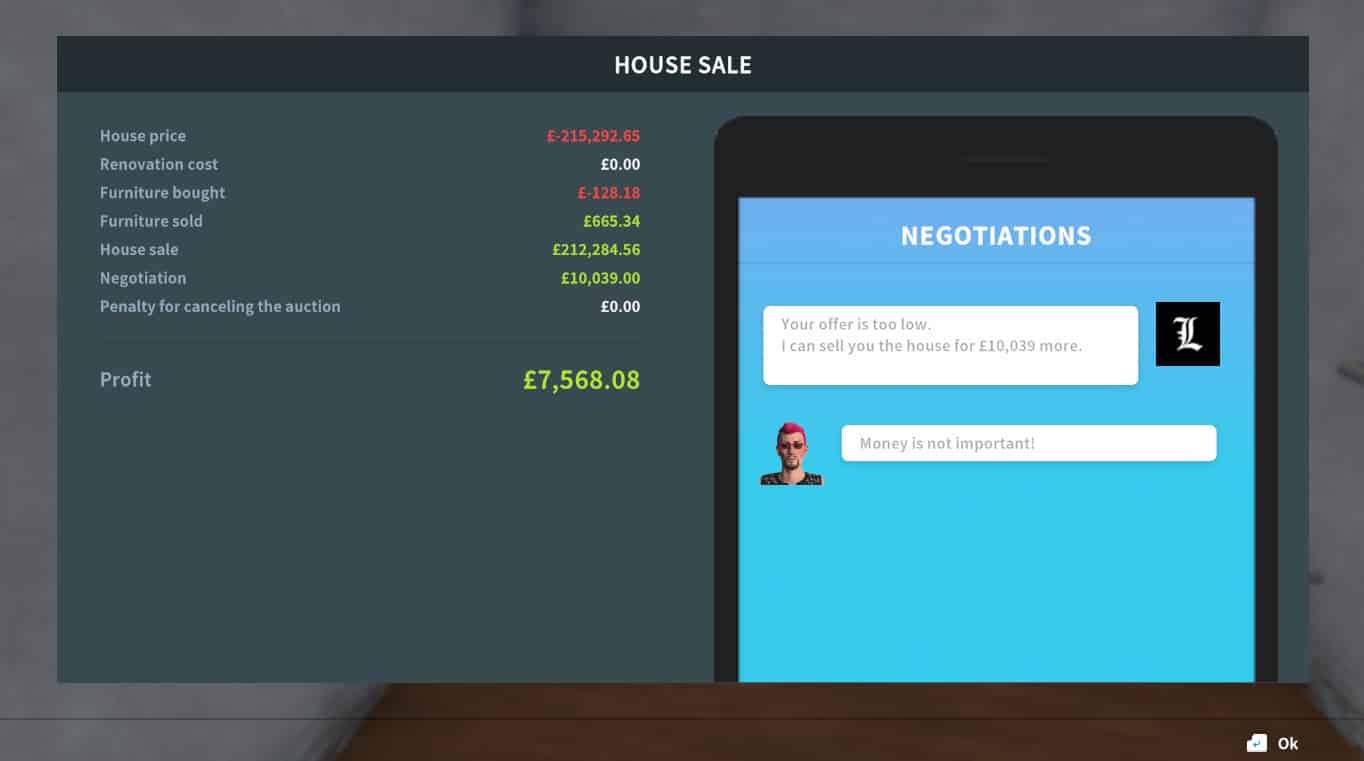 Description: Fashion is my armor against the realities of everyday life.
Completion Rating: 7.3%
Gorgio and the remaining potential buyers are a little fussy, for lack of a better word. To unlock 'I'm a Belieber, ' you must sell a property to Gorgio Shauna. The' Just married's house' is an easy property to set up for this Trophy.
Remove the kitchen to put off a few of the other potential buyers. There are only a few objects to sell, including the sink. Afterward, place a wardrobe in the empty room to the right, next to the front door. Any will do, but I used the Fenrir Wardrobe. For Gorgio, money is unimportant (at least, that's what he says), so negotiate a slight increase if you can.
Game Over
Description: Finish the Game
Completion Rating: 7.1%
For the Game Over Trophy, you need to sell every house you can access. The issue is, if you've got multiple DLCs, this includes those as well. Fortunately, it doesn't matter what state you sell each house in. If you've got the money, you can sell each property to the first buyer at a loss, and the Trophy will unlock.
If you've completed every order for 'Perfectionist,' you'll have the capital to purchase most houses and make a small profit with minimal effort. In many cases, you can negotiate to break even or better.
Millionaire
Description: Earn your first million Euro
Completion Rating: 6.9%
The currency-related Trophies appear to be bugged unless your currency is set to Euro. It's Euro by default, but if you've changed it to anything else, put it back, or Trophies may not unlock when they should.
Millionaire is much easier than it sounds because you don't need the whole amount in your account at once. This will unlock naturally, especially if you're flipping houses for the 'Estate Agent' Trophies. Once you've sold each home, you've technically beaten the game, and this lets you buy and sell any houses at an unlimited capacity.
A very easy way to do this when you've reached the end of the game is to buy the 'Alone Home.' Even without alterations, you can negotiate a 50,000 profit almost every time you sell it. If you keep buying and selling the property, you'll reach 1,000,000 euros in no time.
You're Doing It Wrong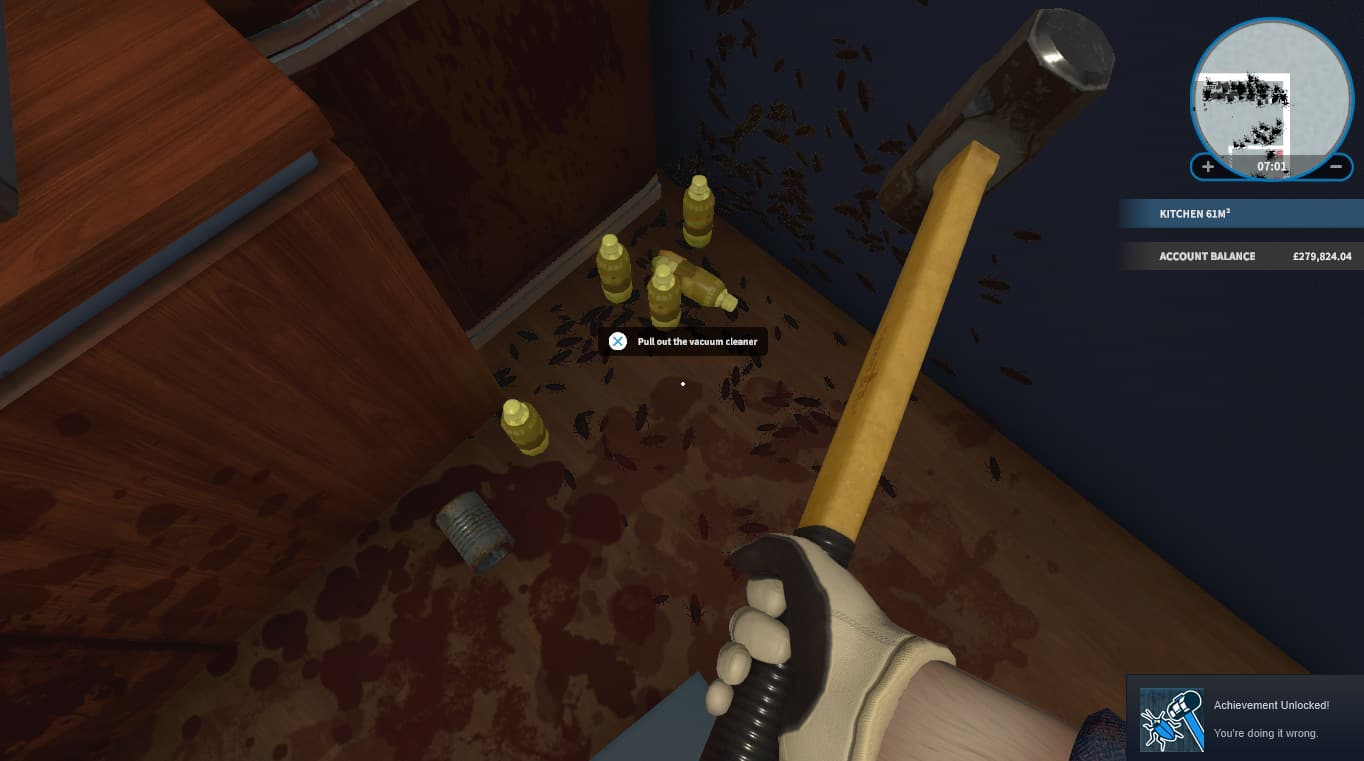 Description: Killed a cockroach with a hammer
Completion Rating: 6.7%
Killing a cockroach with a hammer is a little harder than it sounds, as a select few houses have an infestation. The 'Abandoned House' is a decent place to unlock this Trophy as the kitchen is full of them and the house is cheap.
It can be awkward to get the Trophy to unlock. I swung wildly at the cockroaches and got it quickly, but I've read reports of this being a real pain for some players. Move around when you're swinging your hammer, and with some luck, you will unlock 'You're doing it wrong.'
Knock, Knock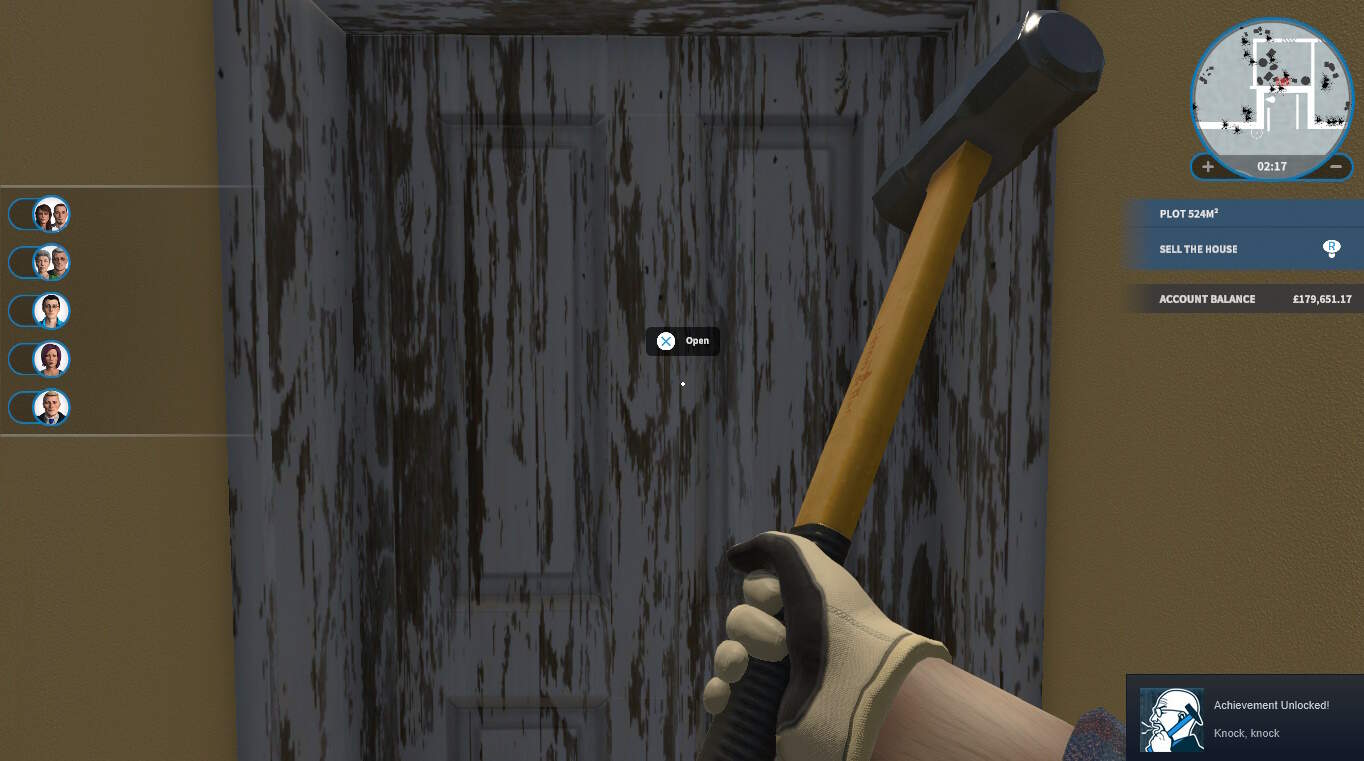 Description: I am the one who knocks
Completion Rating: 6.1%
Knock, Knock is an easy Trophy to unlock, but it differs slightly depending on what platform you play on. For console users, purchase 'Sellers House'. On PC, the house is called 'Huckster's House' instead. For Console, the house name was changed in an update but was never patched for Steam. To earn the Trophy, simply go to the front door and smash it once with your hammer.
It may seem like a waste to buy the house just for this, but we can also use the property for the Wall Street Shark Trophy, so don't sell until you've done that!
Car Mechanic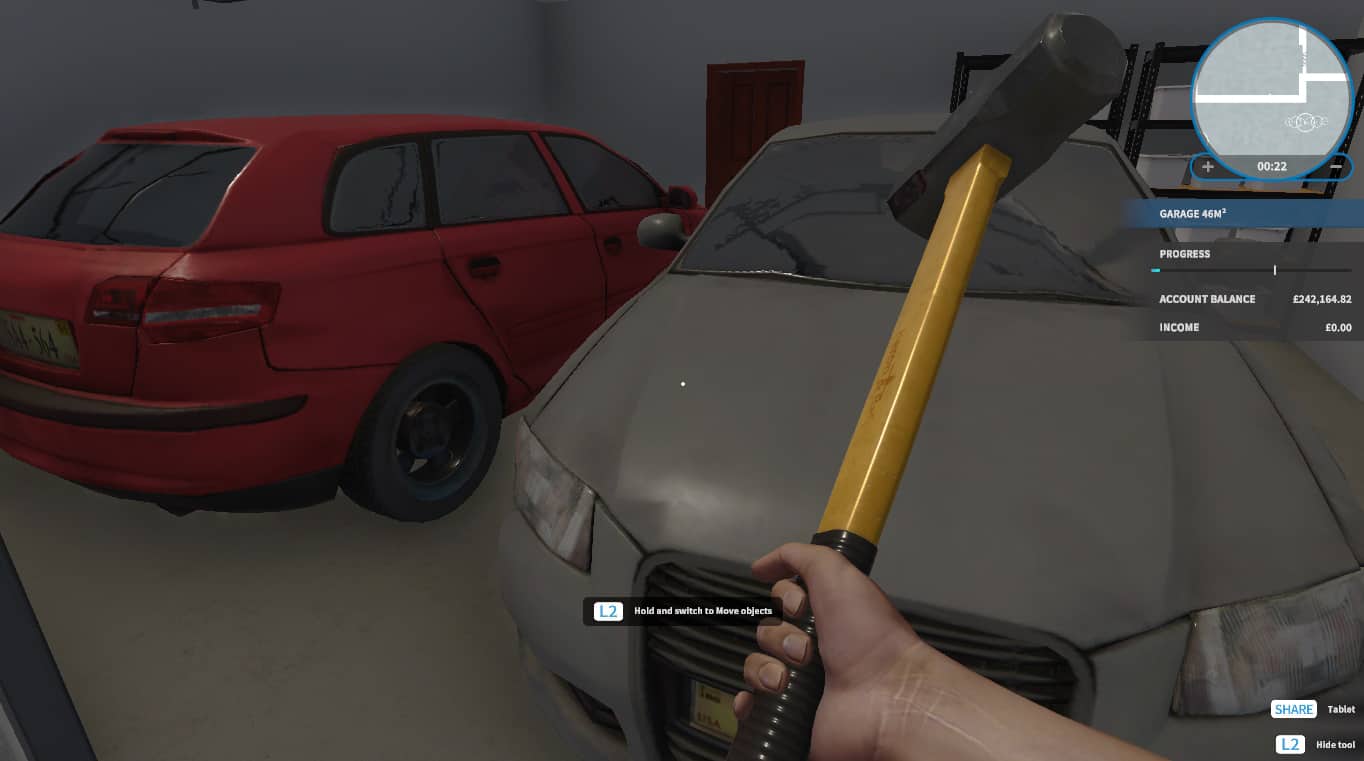 Description: You'll need a car mechanic
Completion Rating: 5.8%
For Car Mechanic, you need to smack a car with your hammer. The tricky part is finding a house with a car and hammer in your inventory. Sadly, the trusty 'Cleaning the garage' order won't work. Fortunately, an order called 'Bathroom and home workshop' from Mandy Clow has everything we need. Open the garage door from outside and give either car a whack on the bonnet.
This method is great because you don't need to buy a house. If you're looking for a new property, you can complete this Trophy at 'Home and car.'
Wall Street Shark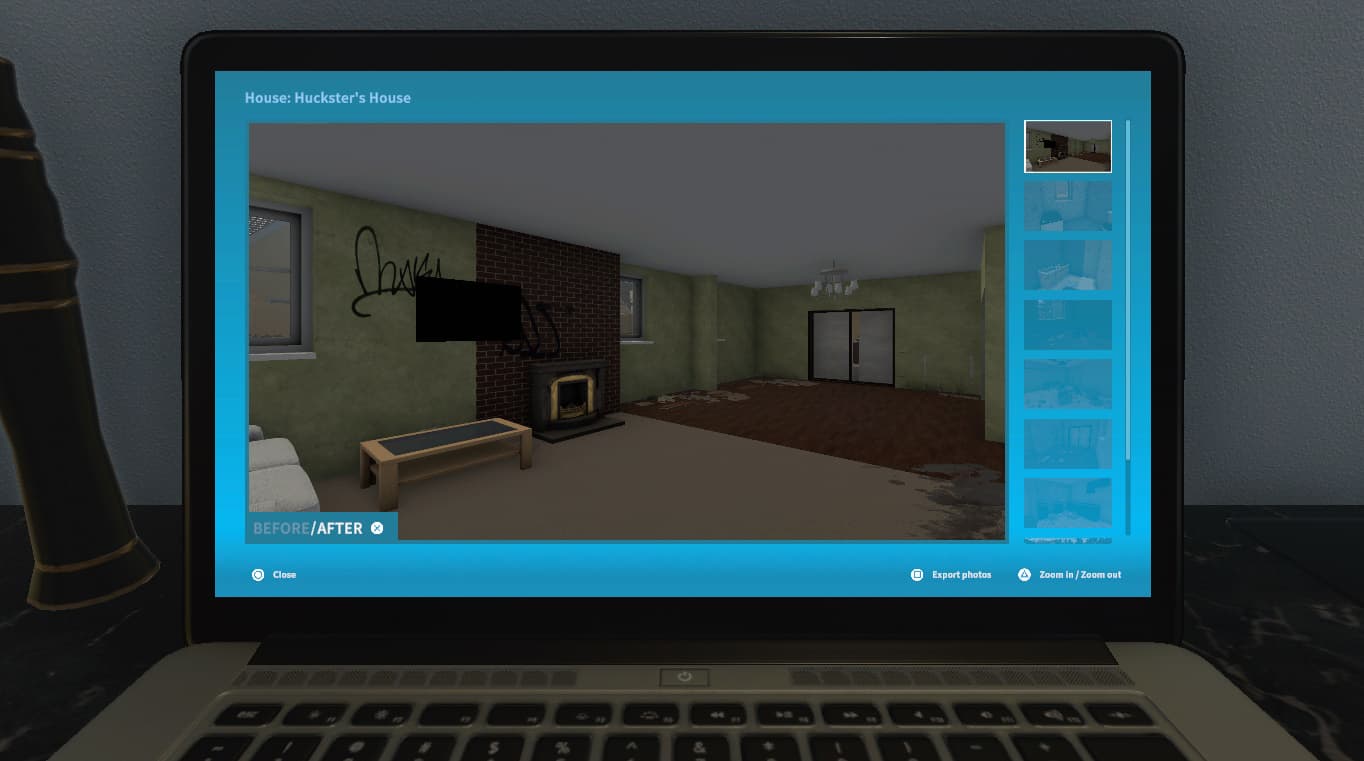 Description: It's business. Leave your feelings at the door.
Completion Rating: 5.6%
Sell a property to Jack Tarinton to unlock the Wall Street Shark Trophy. Jack is one of the fussiest buyers in the game, and you'll need to do a little legwork before he buys a property from you.
Since you'll already have the Seller's/Huckster's house for the Knock Knock Trophy, you can set that property up to work here. Make the following adjustments :
Sell the Kitchen Sink
Clean the room by the front door. Then, buy and place a Henry Classic Sofa and Wall-mounted TV.
Buy and install a Sink with Cabinet PRYZMAT in the bathroom.
Buy and install a toilet in the bathroom and another in the on-suite next to the bedroom. The toilet choice doesn't seem to matter, but I used the Memmo Toilet.
I may have been unlucky, but Jack is a real cheapskate and seems unwilling to negotiate decent prices.
Negotiator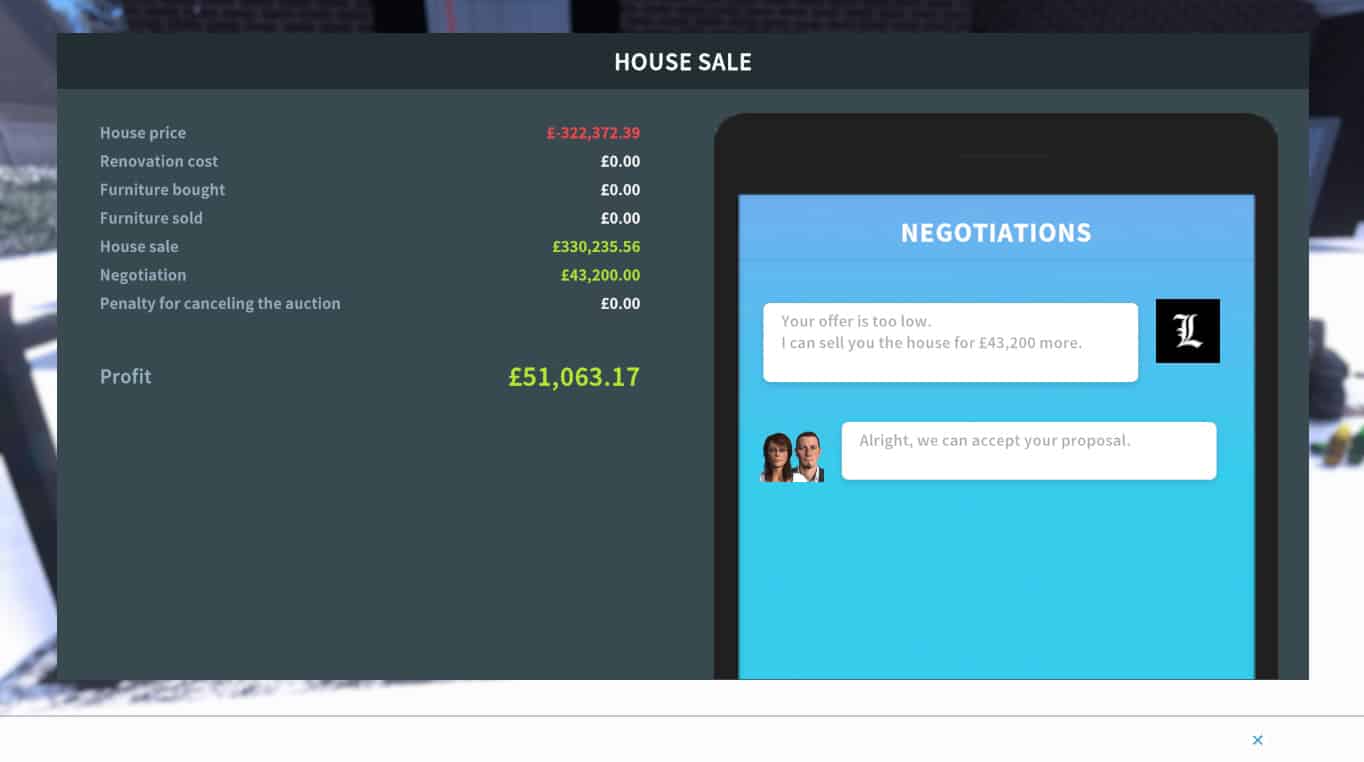 Description: Successfully negotiate a sale earning no less than 50,000 Euro
Completion Rating: 4.9%
I've read conflicting reports for 'Negotiator' concerning the currency type. Some say they've unlocked this Trophy with other currencies, some say House Flipper takes conversion rate into account, and some say the currency must be Euro, no exceptions.
To be safe, change your currency to Euros in the Options Menu (Settings > General) before attempting the Trophy. You must have the Negotiator Perk "Price Negotiation" at maximum rank, as it will improve your chances of a successful sale by 15%.
The easiest house to attempt this on is the 'Alone Home.' Even with no alterations, you can easily negotiate a sale over 50,000 euros.
Do It ASAP
Description: Complete an order in less than 1 minute
Completion Rating: 4.7%
Quickly completing an order is much easier when you've unlocked multiple skills in the Perks menu. Above, I listed a recommended order to unlock perks for maximum speed, but for 'Do it ASAP,' all you need is the cleaning perks to be maxed out. Quick Jobs in the Negotiation perks is helpful but not necessary.
Once you have those, select the order 'Cleaning the garage' by Caroline Smith. When you load in, run to the garage door and activate it. Mop the middle of the floor where the tire marks are, then collect all the trash and boxes on the floor and shelving units. Finally, clean the window, and that will give you enough progress to finish the order.
This sounds like a demanding Trophy, but I can do it in less than 30 seconds, so you have more time than you think.
Geek
Description: I'm no genius, but I am smarter than you are.
Completion Rating: 4.3%
Fun fact, this Trophy used to be called 'Nerd' before it was changed in an update.
To unlock Geek, you need to sell a house to Chang Choi.
There's a reason this is the rarest buyer Trophy in the game. Chang is very fussy. You can use quick and easy strategies for every other buyer, but no simple method has been found for Geek.
The most concise method I've found for the Geek is a superbly detailed guide by Steam user Antimonymph. Full credit for this strategy goes to them. Check out their work here.
If you ever find yourself in a situation where Chang is on top of your potential buyer list, I recommend selling immediately to him to unlock the Trophy.
Senior Estate Agent
Description: Sell 50 Houses
Completion Rating: 3.5%
This will likely be the final task between you and the coveted Platinum Trophy. At this point, you'll have beaten the game and can buy any house as often as you like. The brute force method for Senior Estate Agent is to buy and sell any property until the Trophy pops. You could pick 'First office' as it's the cheapest, but properties like Turtle House or Alone Home usually sell for a profit even if you don't work on them.
At this point, money won't be an issue, but if you're interested in any of the DLC, the extra money could be handy.
Frequently Asked Questions
Question: Cleaning windows is tedious on PC. Any tips?
Answer: If you're playing with a mouse and keyboard, dragging the window cleaner across the screen is very slow and can't reliably be sped up without ruining your mouse sensitivity for everything else. If you plug a controller in, you can clean windows much faster. It may sound silly using 2 input devices, but you'll be glad you did if you attempt the Christmas orders and full house makeovers later.
Question: Does House Flipper have buggy Trophies/Achievements?
Answer: Unfortunately, yes, it does. There are multiple reports of Trophies not triggering when they should, and this issue is exacerbated if you own the DLC packs. If you're running into problems, try uninstalling your DLCs. If you're specifically having problems with the 'Perfectionist' Trophy, ensure every order is at 100% and repeat an order of your choice.
Question: I've already sold a house you recommended I use for one of the Trophies. Now what?
Answer: Don't worry. Once you've sold every house (a requirement for the Estate Agent Trophies), the credits will roll, and you'll be able to buy any property in the game unlimited times.